Date added: 16 February 2010
Battering it out for Pancake Day
WH Smith flip their way to victory in Swindon town centre
They specialise in the stationary department, but this morning the boys from WH Smith proved they're more than just pens and paper as they were crowned winners of the inSwindon pancake race of 2010.
Twenty retail staff from shops from Swindon town centre joined the inSwindon team to participate in the now annual event - despite the 'greasy' conditions of the track in Wharf Green.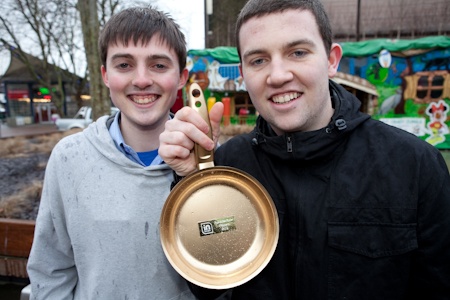 Luke Robinson (l) and Alex Down winners of the 2010
inSwindon Pancake Race
After three rain-soaked heats the final was eventually won by the WH Smith boy's team, or 'Alex's team' as they liked to call themselves, who flipped their way to victory.

Simon Jackson, chief executive of inSwindon, said: "It's great to see everyone getting involved, and Wharf Green is the perfect space to stage the event.

"The staff don't normally get to socialise with staff from other shops, so it was great fun for all!"
SwindonWeb's Perfect Pancake Recipe
1 egg
1/2 pint full-fat milk
2 tablespoons water
1 teaspoon of sunflower oil
To serve: 1 freshly squeezed lemon and/or sprinkling of sugar
1. Mix all the ingredients in a large bowl
2. Refrigerate for 30 minutes
3. Heat a non-stick pan for 2-3 minutes
4. Add a tablespoon of the batter mix for each pancake, making sure the mixture spreads evenly
5. Flip the pancake to cook both sides
6. Enjoy with freshly squeezed lemon and sugar - just how we like it here at SwindonWeb!

Swindon's Pancake Race 2010 - 16/02/2010
What a crack!
Town centre egg and spoon race kick-starts the Easter weekend...

20 March 2008

Get your skates on!
Swindon Town centre is all set to be transformed in a winter wonderland...

06 November 2007