Date added: 22 February 2010
Alan King Pre-Cheltenham Interview
We speak to the Swindon trainer ahead of this year's Festival
STORY UPDATE: 03 MARCH 2010
Mille Chief Ruled Out of Cheltenham

Big hopeful Mille Chief has been pulled out of Cheltenham by trainer Alan King.
The Triumph Hurdle favourite was reported lame earlier in the week, and King made the agonising decision last night after failing to see sufficient improvement.
"He's a fantastic horse and only a four-year-old, so he will get another chance. But it is disappointing news none the less," the Swindon trainer said.
Alan King will be hoping for better weather at Cheltenham next month, as he braved the blizzard to speak to SWTV this morning on his horses' prospects three weeks ahead of the Festival.
A revealing interview, where the the Swindon trainer talks candidly about a season that hasn't quite gone to plan so far, and his high hopes for Mille Chief in the Triumph Hurdle.
Asking the questions for SwindonWebTV at Barbury Castle, Jonathan Powell.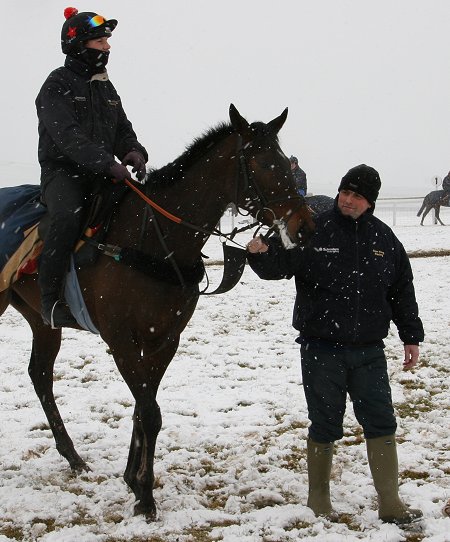 Looking forward to Cheltenham:
Alan King and Mille Chief
Fancy A Flutter?
Swindon runners and riders to look out for today at Cheltenham - FRIDAY...

The King's Speech
Swindon trainer talks to SwindonWebTV ahead of the Cheltenham Festival...

John Francome
Swindon gee-gee genius and seven-times champion jockey...