Date added: 15 March 2010
Pudsey Bear in Swindon
Children in Need character collects money from inSwindon…
It may have felt like déjà vu, but Pudsey Bear was in Swindon town centre for a different reason on Friday.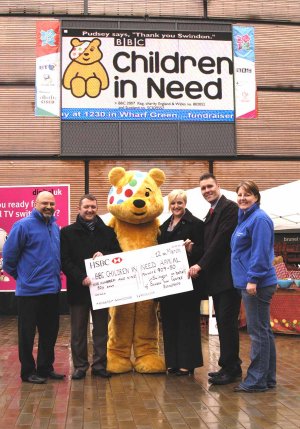 inSwindon's Simon Jackson presents the
cheque to Pudsey and is joined by
Debenhams workers and beneficiaries
The BBC's Children in Needs character came to collect the money raised from the Christmas Santa's Grotto.
Over the festive period inSwindon managed to raise £909.50 for BBC Children in Need with the help of Debenhams, House of Fraser and The Brunel.
Despite the rain children and adults turned up in Wharf Green to have their picture with the lovable character and to see him receive the cheque from Simon Jackson, Chief Executive Officer of inSwindon.
"It's great that we raised so much money for such a worth cause," commented Simon.
"And it's great to have Pudsey bear back in the town centre to receive the money in person."
Children in Need 2007
Swindon does its bit for Pudsey - 3 videos incl. Town players getting waxed for charity!...