Date added: 01 April 2010
Lottery boost for local hero
Alfred Williams Heritage Society's given £35,000 grant
A Swindon heritage society has been given a boost from the Heritage Lottery Fund (HLF) to spread the word about a local hero.
The Alfred Williams Heritage Society have scooped a £35,000 grant to put on a two-day festival about the South Marston-born writer, as well as various other projects.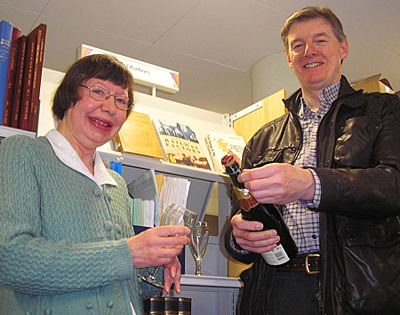 Caroline Ockwell and John Cullimore of the Alfred Williams Heritage Society celebrate their grant from the Heritage Lottery Fund

The Society, which was only launched in December 2009, impressed the HLF with their plans to make more people aware of Williams, who published six books of poetry, books about life in villages near Swindon, and Life in a Railway Factory, the 1915 book that has been called "the most important document in Swindon's history"

Williams, who was born in 1877, was employed by the GWR at Swindon Works for 23 years and did most of his writing in his precious spare time.

Society Chairman Dr John Cullimore said Alfred's life story is just as inspiring as his work.

"We formed the society because we found him so inspiring," said John.
He spent most of his life in poverty, yet came up with some wonderful works, which are just as readable today as they were when they were written, a century ago.

"He was known nationally as 'The Hammerman Poet', his books were reviewed in The Times and three prime ministers knew about his work and his struggle. Yet today he is largely forgotten in Swindon.

"So myself and co-founders Caroline Ockwell and Graham Carter thought it was about time that more people got to hear about him – and we're delighted the HLF agree."

In 2008, John wrote and recorded a 'rock opera' CD about Williams, called The Hammerman, and this will form the basis of a musical production that will be the centrepiece of the Alfred Williams Festival in Swindon on November 12 and 13.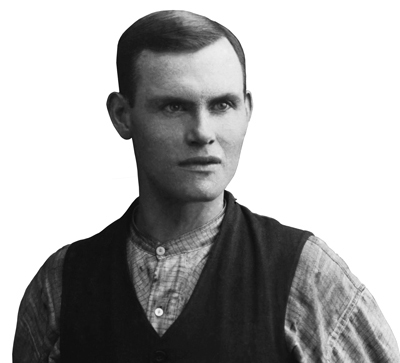 Alfred Williams, the Hammerman Poet
(photo courtesy of Bob Townsend and Paul Williams)

The Society will use the HLF money to pay a part-time project co-ordinator to help organise the festival and to set up a permanent exhibit about Williams, which will go on display in Swindon.

They also plan activities involving local schoolchildren, including setting up a link between South Marston School and children in northern India, where Williams was stationed during the First World War.

A longer-term project will make Williams's book available online, including some that were previously unpublished.

Nerys Watts, the HLF's Head of Region, said: "In addition to its literary merit, the work of Alfred Williams provides an important record of the social history of the Swindon area of the early 20th Century and of the labour movement in Great Britain.

"Through a range of original and exciting activities, this project will provide the opportunity for local people, including young people, to better understand and appreciate an inspiring figure from a key period in their past.

"We are delighted to be able to support this project and hope that it will encourage other people in the Swindon area to explore their heritage and to approach us for funding support and advice."
The Society have acknowledged the support they received in preparing their grant bid, including the Friends of Alfred Williams, Swindon Borough Council and especially Mike Pringle of the Swindon Cultural Partnership - and they hope to work closely with other local groups as their projects pan out.
But they say the real challenge is to bring Alfred Williams and his achievements to the attention of local people who have never heard of him before.
"Sometimes," said John Cullimore, "people are slow to acknowledge the value of local things, but Alfred Williams shows that you don't have to look as far afield as you might think in order to find inspiration.
"He was one of us, and we want to show Swindon why he is a true local hero."
Folk evening
The Alfred Williams Heritage Society has organised an Alfred Williams Folksong Evening at the King and Queen, Longcot, on Tuesday, April 20.
This "entertaining and educational event" looks at one of Williams's legacies – the lyrics to traditional folk songs that he collected on his travels in the area, which has assumed national importance in the 80 years since his death.
Tickets (£7.50) can be bought online, from the Society's official website, but are limited, so early booking is essential.
Calling all actors & singers
Audition for a major new musical production celebrating the life of Alfred Williams - THURSDAY 22 JULY...

21 July 2010

The Railway Works
Celebrating Swindon175. A short introduction to the world's finest railway works. Founded this week in 1841....

Richard Jefferies
Born in Swindon: a writing enigma who is difficult to categorise or evaluate...