Date added: 20 May 2010
Teen fitness at the Link Centre
New studio at the Link Centre offers perfect setting for family fitness
What happened to the good old days when you could give your kids a ball and it would keep them entertained for hours?
Teenage fitness is becoming a major concern for more and more people these days, with modern trends such as computers and TV being just a few things to ruin any sort of teenage fitness.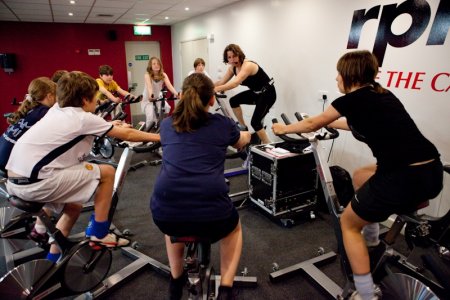 cycling session at the Link Centre
But what if you mixed the latest technology with gym facilities? This is exactly what the Link Centre in West Swindon have done offering a variety of classes to give a new way to workout for our growing teens – but in a fun environment
One exercise class being teen spinRG, these instructor led indoor cycling sessions are described as the best way to ride your way to fitness whilst listening to your favourite tunes.
"Riding a bike has never been so much fun," said Neil Montgomery, gym instructor at the Link Centre.
"WE now how important it is to keep teenagers active so these classes are specially designed to get them fit but to have fin at the same time."
They also offer a class called Teen NRG, which is based in the Studio and are described as a fun and interactive way to keep teens active.
Activities include reaction walls, dance mats and much, much more!
Classes are for SpinNG are held Monday 5.30pm-6.00pm, 11+ years
and Wednesday, 4.30pm-5.00pm and Teen NRG on Monday 4.30pm-5.15pm for 11+ years and Wednesday at 5.15pm-6.00pm.
For more information please visit the website below...

Teen Fitness at the Link Centre - 20/05/2010