Date added: 01 June 2010
Pub crawl with a difference
50 competitors take part in the Wanborough Beer Run 2010
It may not be the conventional way to spend a a Bank Holiday Monday, but for 50 people in Wanborough it's the only way.

Fifty eager competitors took part in the 53rd Wanbough Beer Race in the annual Bank Holiday Beer Race which is the villages great tradition.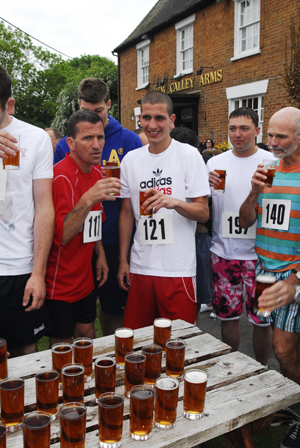 Annual Wanborough beer run 2010
The beer guzzling runners had to drink half a pint of bitter at each of the six local pubs taking them around the 2.2 mile course.

The event attracted a large crowd who eagerly waited for the first struggling runner to return.

Eventually Matt Owen, was the victorious winner who completed the run in 16.32 minutes, and Elaine Widdowson the first lady who crossed the line in 24.53 minutes.
Each year the race starts and finishes at a different pub, with the honour this year going to The Newcalley Arms.

Check out our picture gallery below...

Wanborough Beer Run 2010 - 01/06/2010