Date added: 01 June 2010
Richard Jefferies Museum
We investigate the 'hidden' birthplace of the Swindon author and find out what the future holds for Jefferies' birthplace and former home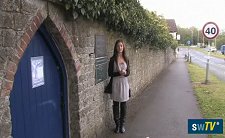 What's behind the doorway?:
Most people have no idea it's there. And if you've ever driven along Marlborough Road past the Sun Inn, it's easy to miss it.
But if you stopped and looked closely enough, you'll see a doorway and a plaque that tells you all you need to know about one of Swindon's most historical sites - the birthplace of Richard Jefferies, arguably the town's greatest author.
And we think, one of Swindon's nicest surprises.
The 'hidden' farm house (pictured below) on the edge of Coate Water, is now a museum to Jefferies, who was born here in 1848 and whose writing was inspired by the beautiful countryside that surrounds it; the nearby Coate Water lake, Liddington Hill and the many woodland walks that you can still enjoy today.
An inspirational place that volunteers from the Richard Jefferies Society - now 60 years old - have helped to preserve and continue to do so today.
But it's also a place now potentially under threat due to lack of funding and recognition.
So with springtime - Jefferies favourite time of year - now well and truly upon us, we decided to meet up with the Society to find out what they have planned and why Jefferies' works and legacy deserves to be recognised and celebrated. Not least by the town where he grew up.
Watch our video above.
The Richard Jefferies Museum is open on the second Wednesday of the month from 10am to 4pm and by special appointment.
From May to the end of September, it is also open on the first, third and fourth Sundays of the month from 2-5pm.

Admission to the museum is FREE.
Swindon Rowing Regatta
Oar-some sight as boats compete on Coate Water for the first time in 10 years...

14 September 2013

Calling all poets
Your chance to wax lyrical in Swindon this month...

07 October 2010

The Old House at Coate
Help Disney Volunteers prepare the gardens of the Richard Jefferies Museum - TODAY...

07 September 2010

Richard Jefferies
Born in Swindon: a writing enigma who is difficult to categorise or evaluate...