Date added: 07 June 2010
Great expectations for new Indian restaurant
We find a curry with a difference at Foxhill
The transformation is complete.
But we're not just talking about the conversion of the old Shepherd's Rest at Foxhill near Wanborough from a country pub to an Indian restaurant.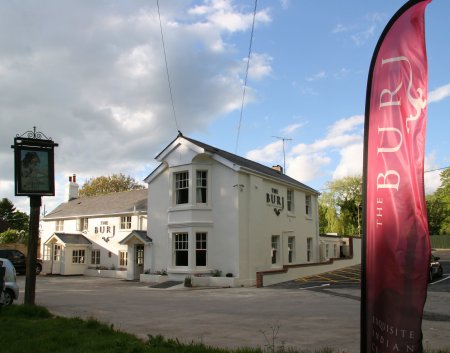 formerly the Shepherd's Rest
More significantly, The Burj takes all the things we always loved about Indian restaurants and redefines our expectations, thanks to a brighter, newer, smarter package.
The building has been substantially re-furbished and transformed into a contemporary modern restaurant with a touch of class, complete with subdued lighting, soothing pastel colours and impressive works of art. And, although large, The Burj still manages to provide a degree of intimacy that makes it as suitable for talking business over lunch as it is for evening get-togethers with friends and family.
It may be a restaurant with an eye on the future, but the Burj still comes with a pedigree, since its joint owners are two men already well known for the quality of their restaurants in Old Town, not to mention their welcome - Rokib Ali, from The Biplob, and Walid Meah, from The Curry Garden.
Their years of experience are already rubbing off on The Burj menu, which, in addition to the usual Indian favourites we have come to expect, is also designed to tempt those keen to try something new.
So there are dishes from different corners of India, with a fish curry from Goa, typical Keralan dishes - and plenty more for you to discover.
The Burj
Foxhill
Wanborough
Swindon
Wiltshire
SN4 0DR
01793 791888