Date added: 13 June 2010
New-look Trust's challenge to politicians
Mechanics' campaigners want to be part of the 'big society'
The trust battling to save Swindon's most historic building has relaunched with a new logo and a challenge to local and national politicians.
Daniel Rose, Chairman of the New Mechanics' Institution Preservation Trust Limited, told a meeting of the Swindon Civic Trust that from now on the organisation would be called simply the Mechanics' Institution Trust.
And while exclusively revealing the Trust's new logo to SwindonWeb, Daniel said the time had come for action to save the 155-year building.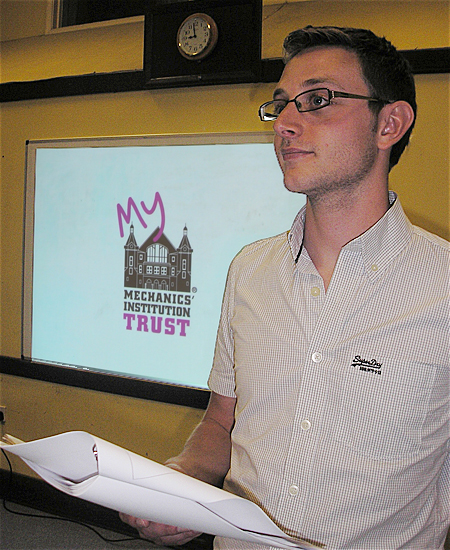 "The Mechanics' symbolises what we can have that's better...
and also what we've lost"
Daniel Rose, the Chairman of the Mechanics' Institution Trust

"We heard a lot in the run-up to the election about moving from 'big government' to a 'big society', in which the community would solve its own problems," said Daniel.

"Well, the time has come to do that for the Mechanics'.

"My challenge to politicians is to take those quotes about the 'big society' and ask them how they are going to implement them locally.

"I am meeting South Swindon's new MP, Robert Buckland, tomorrow (Friday, June 11) to ask him just that."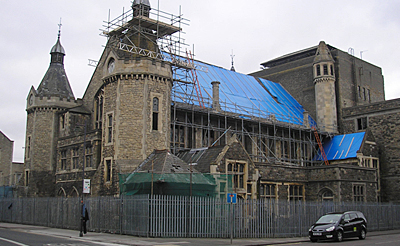 the former Mechanics' Institute in Emlyn Square

He said the Trust had been "very fair and supportive of Swindon Borough Council" as various parties tried to resolve the future of the Grade II* Listed building, but cast doubt on politicians' will for open and transparent government.

"Twelve months ago we were having regular meetings with the Council, but if you asked me where we are now, I'd have to say I don't know.

"There are discussions going on behind closed doors that we are not part of."

He said there was a deep-rooted cultural issue among councillors who could only see the Mechanics' as a problem, rather than a solution. A restored Mechanics' would, he said, give Swindon "a heart, a sense of identity and something to be proud of".
He pointed to detailed Trust plans to turn the building over to public use, and sustain it with a business plan that has undergone a rigorous feasibility study.
Swindon Borough Council was failing in its obligation to look at suitable options for using the building for "learning, cultural and social activities" – but this was nothing new.
"To be fair, there has been no distinction between Labour and Conservative councillors and officers in the last 20 years. It hasn't made any difference.
"But we like the idea that we could be part of the 'big society', and that is something we are going to be testing in the coming months."
He said the Trust will be putting pressure on both local and national politicians to issue a Compulsory Purchase Order on the building, which is currently privately owned by property developer Mathew Singh.
"The Mechanics' symbolises what we can have that's better," said Daniel, "and also what we've lost."
Children's Fete 2010
Face painting, arts and crafts, fairground rides and more - SEE GALLERY...

13 July 2010

Life in a Railway Village
We explore what life is like living in the Swindon Railway Village 160 years after it was first built by the GWR....