St. Margaret's Garage
Memories of Morris Minors and MOTS - a 'village' garage since 1936
Many of us will have driven passed St. Margaret's Garage on Highworth Road in Stratton but not realised it has a long history behind it.
The garage is still a family owned business established in 1936 by George Brickell.
His son Alan, 63, continues with MOTs, car repairs and some petrol sales. Alan says his father moved from Shrivenham to the site 74 years ago, even then it was a working garage.
George bought the house opposite when it was new and continued to live there all his life. Number 53 remains in the family today.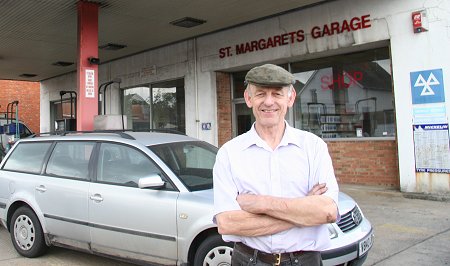 Alan Brickell outside St Margaret's Garage in Lower Stratton
"My father repaired cars and sold petrol. The pumps were then on the paths, in those days and people used to stop on the side of the road to fill up", Alan told us.
"The war came on not long after, and he repaired army lorries during the war, and also ferried workers to Vickers by bus".
The factory at South Marston was vital to the war effort manufacturing Spitfires.
Alan says after the war his father buit the premises we see today, after knocking down the original wooden building and only moving the pumps back off the paths when it became illegal to sell fuel across the pavement.
St Margaret's garage is the last independent selling fuel left in Swindon; the forecourt having officially closed in December 2009.
"We concentrate on MOTs and repairs now," added Alan, who still serves petrol and diesel to his account costumers and anyone that asks at the rear entrance.
Buy independent he means they are free from any oil company.
Alan says he hopes to get the support of an oil company and reopen the forecourt to the general public.
"Our oldest petrol customer is without question Eric Barns from Cashbrain Farm, and I remember him being sent down by his dad on a horse and cart to buy a gallon of petrol, for the mowing machine to make the hay he must be 82 now, still drives and gets petrol here."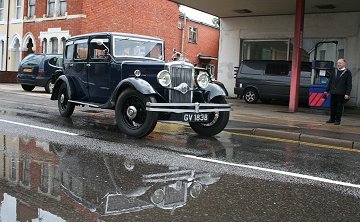 Keeping everyone on the road:


a vintage wedding car sets off from
St. Margarets Garage
during the floods in 2007
But how things have changed.
Alan says he took over the garage when the area was a still a village, the biggest change he has seen being the housing development Stratone Village.
"We've gone from a village environment to an urban environment but people still think of us as the village garage.
"We have some of the children's children still coming here, second and third generation, it's incredible, really," the memories flooding back, including the 1960s, when part of the business was car sales.
"I do remember one particular test drive from a local customer," Alan added, "I was demonstrating a Morris Minor to Burt Davis's niece Ethel.
"Now Burt didn't have a driving license but his niece did, although she hadn't driven for fifteen years!
"I took them up to Sevenhampton and let her take over.
"On the way back Ethel looked down to change gear as a fellow on a bike was coming the other way. She drifted to the right of the road, the bike went to other side and we passed each other on the wrong side and carried on around the bend!
"She bought the car and didn't have an accident in the ten years she had it."
St. Margaret's Garage remains open for MOTs and repairs.
Alan says he has no intention of retiring yet.
1 Highworth Road
Swindon
SN3 4QW

Tel: 01793 823 166
Interview by Mark Saunders
The Last BLT!
The last day of smiles & sandwiches at Yummies in Old Town as ladies say goodbye after 31 years...

28 March 2014

Catsbrain Farm
Bombs, bikes and bi-planes - memories of Eric Barnes, possibly Swindon's last owner-farmer...

02 October 2010

End of the 'Roll'
A cut above. Jeff Evans - Swindon's 'Mr Carpet' - retires after 50 years...

12 August 2010

Vickers in Skirts
Swindon's role in the history of the hovercraft - first launched 50 years ago today...

11 June 2009

Planes, Trains & Automobiles
How Swindon helped pioneer some of the most incredible aircraft ever built incl. Spitfires, Swifts & Concorde...