Date added: 02 October 2010
Catsbrain Farm
Memories of Eric Barnes, possibly Swindon's last owner-farmer, with Mark Saunders
Catsbrain Farm is on the Highworth road out of Kingsdown.
If you have ever noticed the sign on the old shed inside the farm gate you may have asked yourself why on earth it is called that?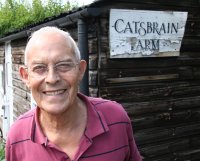 Eric Barnes, 79, is the owner of the farm; he knows the origin of the name and recalls the farms connections with the area.
And he's so proud of the name, he carries a notebook in his back pocket with the definition precisely written inside it.
"Catsbrain was a graphic description given to a field that had mosseled appearance due to a mixture of soils or a large quantity of stone," he read to us.
That's that then, a relief to feline lovers and one to remember for all Scrabble anoraks.
Bombs, bikes and bi-planes
The rickety old shed that the sign hangs from was once a busy tea shop in the war years serving the Vickers workers close by.
"We came in 1938 and war was declared in 1939 and they decided to build an aircraft factory over there," Eric told us while pointing across the road.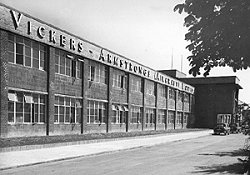 Vickers Factory circa. 1950:
built on land formerly Hutscotts farm
"Before they started building it was known as Hutscotts farm, a big farm.
"The name of the contractors' that built the factory was Cubbits if I remember rightly.
"And where the airfield was built - now Honda - was another farm, Ryall farm.
"As soon as building had started, these chaps would come over in their dinner time asking for a cup of tea from our mum.
"And before we knew it, they were all coming over and we had to start charging. But not much."
As more and more workmen visited and the factory eventually opened for production, Eric remembers his father buying a shed from one of the vacating farmers and turning it into a shop, as well as charging workmen to park their bikes.
"The cycle racks and the car park was the other side of the main gate just up the road so a lot of people asked if they could leave their bikes here then rush to clock-in because it was closer from the farm.
"You got docked wages if you were late so for a lot of chaps it was worth it.
"So we charged threepence a week outside, sixpence a week inside a shed!"
Eric says at its peak they had 50 to 60 bikes.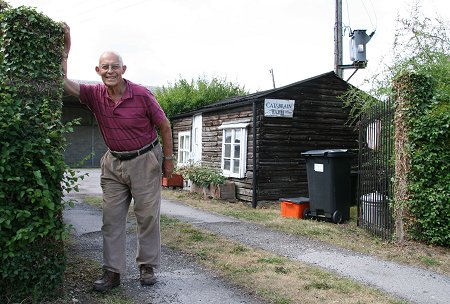 Eric, with the former tea shop that served Vickers workers behind him
"A motorbike was a shilling a week and we had half a dozen cars at half a crown a week.
"Our mum would get the money on a Thursday or Friday expect for the odd so and so who would cycle past! But there wasn't many of them.
And some even payed in other ways.
"The farmhouse curtains looking remarkably like the canvas used for the aircraft fuselages!" he remembered with a smile.
Soon the business was taking off with thousands of workers passing the main entrance to the farm everyday.
"We got a builder in from Swenson by the name of Duns to line the shed with Asbestos, and that was in about 1940. And in those 70 years it has never let any water in.
"That's how it started. We put all these wooden benches round, tea and sandwiches, tuppence a sandwich and we used to get Lyons cakes, which came by rail because in those days Swindon station had a lot of vehicles and they'd deliver the cakes by lorry."
"We use to sell eggs and bread as well."
Eric has kept the old money box his mother used as a till, and uses it today for the egg sales he still does from the farm.
Eric came to Catsbrain Farm in 1938 aged seven with his mother and father.
They rented the 20-acre small holding for one pound a week; at first without any gas or electricity.
The family then bought the farm for £2,250 in 1949.
In the war years, he remembers the Spitfires lined up for takeoff. And recalls often walking to school he would see a De Havilland Rapid biplane flying in with the test pilot.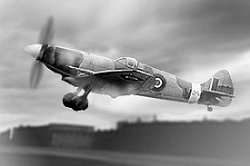 the Vickers factory in Swindon was
built to construct Spitfires during WW2
and became
a target of the Lutfwaffe
Living so close to an aircraft manufacturer during the war was not without risk, however, although Eric considers Swindon comparatively lucky compared to Southampton, where the Spitfire factory there was destroyed by bombing and production moved to Swindon.
"The nearest we had was at the top of Kingsdown Lane, where apparently a bloke had had a bonfire in the day and I suppose the pilot had seen some light.
"It was about seven bombs and the whole house shook!
"They used to tell us to get under the stairs if the siren went.
"Me and our mum did, but our dad said he wasn't going to bother with it. But he did that night. He came shooting down the stairs!"
After the war, Eric finished school and went on to work for his father.
Much of the work was milking cows by hand. They had one carthorse called "Topsy".
Eric and Topsy would go to Arkell's brewery at Kingsdown and load up the cart with the waste product from brewing called 'Brewers grains' to be used for cattle feed.
And he does remember sometimes stopping at St Margaret's Garage for a can of petrol on the way back.
Today Eric enjoys keeping chickens on the farm for egg sales.
He describes himself as a Church man and is a treasurer at South Marston Church.
Hello, Mr President!
Air Force One soars over Swindon as Obama flies in to RAF Fairford - SEE PICS

04 September 2014

The Age of the Tram
Remembering the days when trams travelled the streets of Swindon - WATCH VIDEO

Swindon's sporting heyday?
With news of Supermarine expanding & houses on the former BR Ground, we look back at the golden age of Swindon's big work-related sports clubs...

Swindon Bombing
70 years ago - 20 OCT 1940 - the day the Luftwaffe tragically started targeting Swindon...

Vickers in Skirts
Swindon's role in the history of the hovercraft - first launched 50 years ago today...

11 June 2009

Chiseldon Camp
50 years on since the last soldiers left, we look back at the Swindon army base which helped win two world wars - and welcomed the first American GIs to Britain...

Planes, Trains & Automobiles
How Swindon helped pioneer some of the most incredible aircraft ever built incl. Spitfires, Swifts & Concorde...

Skies Over Swindon
09 APRIL 1969 - 50 years ago Concorde flew in to Swindon - and in them days you were allowed on the runway! WATCH VIDEO