No Trick, No Treat, No Trouble
A polite reminder this Halloween from Swindon Police
It's that time again - where youngsters dress up in their scariest costumes and home owners stock up on sweets for the trick or treaters.
But this year there are a few things to remember according to Swindon Police...
No one wants to spoil the fun, but....
Halloween can be harmless fun, but occasionally, members of the community, particularly the elderly, can become distressed by unexpected callers.

The behaviour of some trick or treaters can also be intimidating and even criminal, with examples in previous years of anti-social behaviour, and criminal damage and graffiti to property.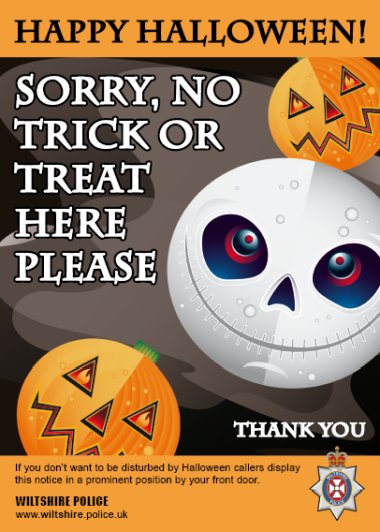 posters available to download by clicking on the image above
for those who don't fancy being 'knocked-up' over Halloween

These posters are large enough for all callers to read and should be displayed either in front windows or on their front door.

The posters can be downloaded from the Wiltshire Police website via the link below or collected from local police station enquiry offices at Swindon Gablecross and Swindon town centre.

They are also available from libraries within Swindon and Police and Council information points within Wiltshire, plus the Tourist Information Office in Regent St.
For those who don't like Trick or Treating

Display a Wiltshire Police poster that says "Sorry No Trick or Treat Here Please" .

Don't open your door if you are unsure who is there.

Use your spy hole, look out of a window, use your door chain if you do decide to open your door.

Have a contact number of a close relative or good neighbour to hand by your telephone, just in case you need to ring them.

If you feel threatened or vulnerable please call the police on 0845 408 7000.

If it is an emergency don't hesitate to contact us on 999.

As a parent try to make sure your child is accompanied by an adult when trick or treating.

Encourage your children to respect people's property by not running through gardens.

Tell your children to stay in familiar neighbourhoods and only call at houses that are lit.