Date added: 16 September 2010
Mecca Bingo to be turned in to live music venue
New live music venue all set to open
Just when we thought the regeneration of Swindon had slowed – it's been announced that the former Mecca Bingo hall will be transformed in to a live music venue.

The building which is situated next to Rudi's in Regent Circus closed its doors in 2008, before being sold to Swindon Borough Council as part of a national rationalisation programme, but is now set to undergo a complete renovation ready to open its doors to the public in December.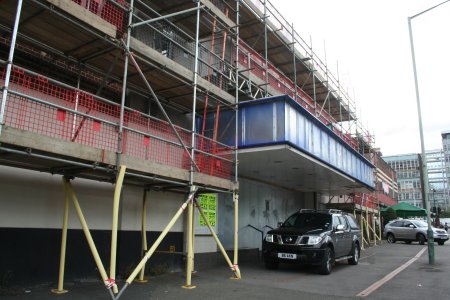 Mecca bingo hall being transformed in to live music venue
"There's still a lot to get finished, but the whole idea is that the venue will continue to evolve and keep changing," said Steve Causer, front man of GVS Ltd, a consortium of local businessmen who have leased the former Bingo hall.
"We have put on so many music events over the years and always thought what a great place Swindon would be for a larger music venue, so when this opportunity came along we grabbed the chance.
"Being local has also been a great advantage, not only has it allowed us to see what the people of Swindon would want from a venue like this, but we are keen to talk to local groups about using the building, so it stays at the heart of Swindon, plus we hope this kick-starts the redevelopment of the town."
It's Swindon, Ma'am!
And happy 90th! But after 18 years without a stop-off, surely we deserve to get the bunting out just one more time?....

70 Years On
Crowds gather in Swindon to mark the 70th anniversary of VJ Day - SEE PICTURES

17 August 2015

The Christmas Truce
You've probably seen the advert - but Captain Mervyn Richardson from Purton was really there...

15 November 2014

D-DAY
75th ANNIVERSARY: Watch our films showing how Swindon played its part on the 6th June 1944 - WATCH VIDEOS

Bravery Recognised
Proud evening as Swindon soldiers are awarded Operational Service Medals for Afganistan Tour - WATCH VIDEO

12 March 2014

The Age of the Tram
Remembering the days when trams travelled the streets of Swindon - WATCH VIDEO

Radnor Street Remembrance
Swindon honours its war graves at much-neglected cemetry - GALLERY + PICS FROM OTHER REMEMBRANCE DAY CEREMONIES

11 November 2012

Strictly Poppies
Come Dancing stars perform at the opening of Remembrance Field at Lydiard Park - GALLERY

09 November 2012

Example at M.E.C.A
Rapper all set for new Swindon venue - 27 DECEMBER - WIN VIP TICKETS!...

Regeneration kick-start
Former Swindon College building finally coming down as plans get approval...

13 October 2010

It's Play Time!
Harold Joliffe One-Act Play Festival 2010 - THIS THURS, FRI & SAT...

05 February 2010

Vickers in Skirts
Swindon's role in the history of the hovercraft - first launched 50 years ago today...

11 June 2009

Railway Voices
New book records life 'inside' the Swindon GWR Works...

08 December 2008

Swindon from above
A unique view describing the story of Swindon - watch video...

12 November 2008

Sold for just 79p
But the value of Zarlink to Swindon is far greater than that...

05 March 2008

Chiseldon Camp
50 years on since the last soldiers left, we look back at the Swindon army base which helped win two world wars - and welcomed the first American GIs to Britain...

Playing up!
One-Act Play Festival continues in to 61st year...

13 February 2008

Life's Real Heroes
100 YEAR ANNIVERSARY: We pay tribute to Swindon's heroes of the Somme + EVENTS

Planes, Trains & Automobiles
How Swindon helped pioneer some of the most incredible aircraft ever built incl. Spitfires, Swifts & Concorde...

Swindon and World War One
Lest We Forget 101 Years On: our 4-part chronicle of the role Swindon people played in the Great War #therebutnotthere

The Railway Works
Celebrating Swindon175. A short introduction to the world's finest railway works. Founded this week in 1841....

GWR's Fair Sex
Women's extensive role in the Swindon Works documented for the first time...

20 October 2007

Richard Jefferies
Born in Swindon: a writing enigma who is difficult to categorise or evaluate...

Joseph Armstrong
One of the greatest figures in Swindon's history. Born on this day 200 years ago...

Life in a Railway Village
We explore what life is like living in the Swindon Railway Village 160 years after it was first built by the GWR....

VE Day in Swindon
The greatest e-VE-r party. How Swindon celebrated the end of WW2 in Europe - 74 YEARS AGO...