Date added: 21 September 2010
12 Calendar Girls Required!
Be part of the 2011 McMillan/ Liquid & Envy calendar now
Come on girls here's your chance to flaunt your stuff - and do something great for charity!
Following on the success of the Help for Heroes calendar last year, Liquid & Envy have joined forces with the Bombay Lounge and Kris Talikowski photography to launch the 2011 calendar in aid of Macmillan Cancer support.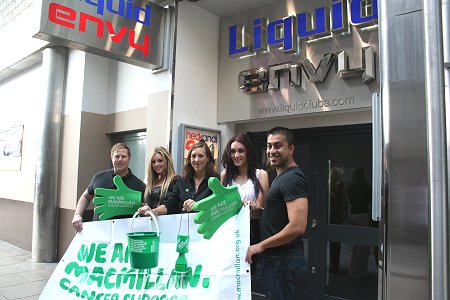 (l-r) Danny Mason, Liquid & Envy, Steph Camps, former calendar model, Polly Bishop, Macmillian, Emma Salter, Miss Swindon 2010 and Hanif Robbani,
owner Bombay Lounge and sponsor of the calendar
The search for twelve calendar models begins on Saturday 09 October at Liquid & Envy from 8pm.
The winning girls will not only have their photos printed in the 2011 calendar, but they will also receive a GOLD VIP card for the club, a framed print of their final calendar page and a prize pack from the local supporters.
"It's been a great idea that allows us to raise the Macmillan profile amongst a younger audience," said Polly Bishop, fundraising manager for Macmillan.
"And each month will represent a named charity with guides from our Macmillian nurses on how to prevent yourself from certain cancers."
"We have a long standing relationship with Macmillian and it's great to raise money for such good cause," commented Danny, Liquid & Envy.
"The girls from last year have gone on to do some great stuff, so it's a great opportunity for any girl to take part."
Applicants are invited to visit the club website via the link below or sign up via their Facebook pages which can be found by searching for Liquid & Envy Swindon.
They require two recent photos; one full length and one head shot.
Heat one: Saturday 09 October 2010
Heat two: Saturday 16 October 2010
Grand Final: Saturday 23 October 2010
Calendar Launch: Saturday 13 November 2010
Calendars can be purchased from Liquid & Envy or from the Brunel Shopping Centre.
Cycling in Swindon
Bikes at the ready! This guide tells you everything you need to know about cycling around Swindon...

Jingle Belles!
Swindon's hottest collaborate for Macmillan Cancer Care - BUY HERE BOYS!...

22 December 2010

FIVE World Record attempt
Mike Buss Targets £5,000 in Support of Help for Heroes at the Swindon Designer Outlet - THIS WEEKEND...

18 February 2010

Braving The Cold
Highworth sleep out raises hundreds for Help for Heroes...

21 November 2009

In the Pink
Highworth high street traders raise even more money for charity...

11 October 2009

One lump, or two?
Swindon coffee mornings raise money for cancer charity...

26 September 2009