Date added: 22 September 2010
Strike action leads to Link Centre closure
Link Centre CLOSED: Saturday 25 & Sunday 26 September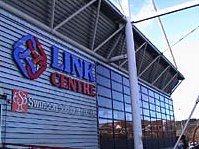 Swindon Borough Council's Leisure Services will close the Link Centre this weekend after Unison members voted in favour of industrial action.
The decision was taken after the majority of staff at the West Swindon leisure centre indicated they would take action either as union members or in support of their colleagues.
All classes and sessions on Saturday and Sunday have therefore been cancelled, while the Swindon Wildcats' match against Guildford has been brought forward a day to Friday evening with a face-off of 7.45pm.
Swindon Dolphins' swimming championships, which were also scheduled for this weekend, will be moved to another date, while all skating lessons will be cancelled.
Oasis and Jimmy Carr - UNAFFECTED
The remainder of Swindon Borough Council's leisure centres will remain open including the Oasis, where the Jimmy Carr performance will go ahead on Saturday night as planned.
The council's parks will be open as normal, but some changes will be made to the opening of some of the town's car parks.
Fleming Way, Wyvern and Brunel West car parks will be open as normal this weekend, although Brunel North car park will be closed at 6pm instead of 9.30pm. However, the car parks at Carlton Street and Spring Gardens will be closed on Saturday and Sunday.
Wroughton park and ride will be open as usual.
"It is extremely regrettable that we have had to take this action and I would like to apologise to everyone who uses the Link Centre for the inconvenience this is likely to cause them," said Cllr Fionuala Foley, Swindon Borough Council's Cabinet Member for Leisure and Corporate Services.
"This strike action was taken despite the fact only 43 people voted for a strike out of 747 staff. How can this action be legitimate if only 5.7% of the workforce voted for it?
"The salaries we are paying staff have been market tested and whilst we recognise that the impact for some staff does mean a reduction in their salary package, we believe that the new salaries are fair.
"We want to ensure we have fair and affordable taxes for residents, so we cannot justify paying people a higher rate for working at the weekend."