Date added: 20 October 2010
Usain's bolt from the blue
World's fastest man likes Swindon girls - but not the shopping
An insight into the sex life and shopping habits of the world's fastest man has been revealed today.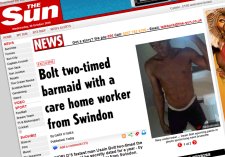 And while superstar sprinter Usain Bolt has a penchant for girls from Swindon, the Olympic gold medalist seems less impressed with what's on offer retail-wise.
A big splash in the Sun newspaper today described how 'curvy' Gemma Jones from Swindon enjoyed an affair with the Jamaican athlete - until she mentioned the shopping opportunities in her home town.
"He told me all about Jamaica and I told him all about Swindon," she said after Usain invited her to the Caribbean for Christmas.
"He asked me if the shopping was good in Swindon and I told him it wasn't great.
"Once he heard that he seemed to lose interest in Swindon!"
Oh dear, we say! Perhaps Gemma could have mentioned the Puma shop at the Designer Outlet Village or, as Usain likes his expensive watches and Italian sportscars, a visit to Deacon's Jewellers in Old Town and then on to Dick Lovett Ferrari.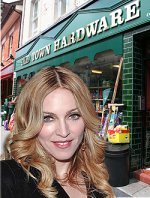 He could, of course, follow in Madonna's footsteps and pop into Old Town Hardware. That's if he's as swift at putting up a shelf as he his on the running track.
Red Planet Bikes also know what it's like to have a superstar at the till after Robbie Williams payed a visit last year.
Some, come on, Usain. Don't be put off.
"Shopping here is definitely of Olympic standards," commented Brian Morris, operations manager of The Parade Shopping Centre.
"And we'd welcome him here anytime."
Two Big Fat Mentions!
Primetime Swindon: first the BRITS then My Big Fat Gypsy Wedding...

16 February 2011

Hello Jenson?
Is the F1 champ heading for Swindon? (well, there's no speed cameras) ...

21 November 2009

Madonna in Swindon!
The story of the queen of pop, a paella dish and a surprise visit to Old Town...

15 August 2008

Old Town
Our guide to the oldest part of Swindon...