Date added: 05 November 2010
Big Game Build-Up
Collier pleased with preparations as Supermarine players are told:

'Enjoy it!'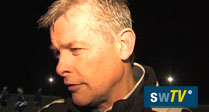 There was nothing too strenuous at Swindon Supermarine last night ahead of the biggest game in the club's history on Saturday.
Manager Mark Collier and his assistant Tom Jones took the players for a light training session with just 48 hours to go to their 1st round FA Cup clash with Eastwood Town.
"Spirits are high at the moment," Collier told us, "but come 1.30pm on Saturday, when the dressing room door has shut, I know they [the players] will be focused on the job at hand.
"Eastwood are a good team but we're ready and, rest assured, we'll be giving it our best shot."
Collier also thankful to have assistant manager and coach Tom Jones, a former Wembley hero himself for Swindon Town in 1990, on hand to lend big-game advice.
The message from both all those involved, above all – enjoy it!
"We have told them to enjoy the day, enjoy the game and relish the fact they will be playing in front of a large crowd," the Supermarine boss added.
"These days don't come very often so they deserve the attention they have been receiving."
The game kicks off at the Webb's Wood Stadium at 3pm.
Sweet FA!
Supermarine dump Eastbourne out of the Cup - WATCH SWTV POST-MATCH...