Date added: 06 November 2010
Supermarine 2 Eastwood 1
FA Cup 1st Round
RESULT: Swindon Supermarine 2 Eastwood Town 1
Supermarine scorers: Holgate 16, Wells 27
Eastwood scorer: Stevenson 47
The Supermarine FA Cup dream is still alive after a pulsating afternoon at the newly-named Webb's Wood Stadium.
A game that exuded tension and excitement until the final seconds as Eastwood laid seige on the Supermarine goal in the second-half hunting an equaliser - eventually hitting the post in injury-time.
But a historical place in the second round - and a possible draw against Swindon Town - was secured thanks to first-half goals from Ashan Holgate and Ben Wells.
The first on sixteen minutes as Holgate reacted first after the Eastwood keeper parried, the second a turn-and-shot right in front of the away supporters after a goalmouth scramble (see pic below).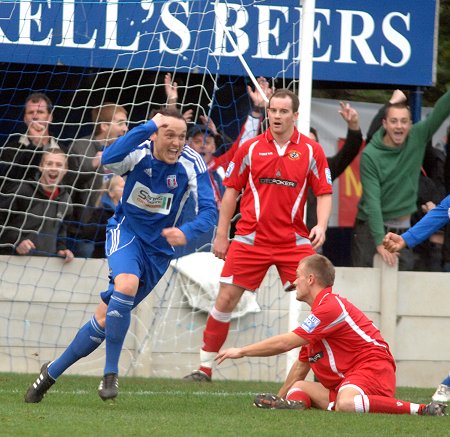 Ben Wells celebrates after making it 2-0
Both close-range efforts that stunned the higher-league visitors, who only came alive after Stevenson scored a deflected free-kick two minutes into the second-half.
Piling forward with the lion's share of pocession, Eastwood then dominated as Supermarine hung on with a combination of desperate defending and two world-class saves from Matt Scott in goal.
Scott's tip-over in the 85th minute the highlight before Eastwood hit the woodwork in the dying minutes.
UPDATE:

Swindon Supermarine have been drawn away at Colchester United in the second round. Tie to be played over the weekend 27 & 28 November.
SWINDON SUPERMARINE:
Mark Scott
Kyle Lapham
Dave Bampton
Leigh Henry
Matt Robinson
Ben Wells
Chris Allen
Chris Taylor (c)
Nick Stanley
Jamie Gosling
Ashan Holgate

Subs: Danny Allen, Steve Cook, Luke Hopper, Gary Horgan, Justyn McKay, Sam Morris, Will Puddy

Swindon Supermarin v Eastwood FA Cup 1st Round - 06/11/2010
Swindon's sporting heyday?
With news of Supermarine expanding & houses on the former BR Ground, we look back at the golden age of Swindon's big work-related sports clubs...

2011/12 STFC Fixtures
New manager, new league, new fixtures! - UPDATE: OXFORD GAMES CHANGED...

24 June 2011

Swindon Town Spoof
Hilarious! Hitler's 'reaction' to Swindon's relegation - WATCH VIDEO (warning: contains bad language)...

Crisis Meeting
Hart close to walking after fans' fury and Fitton post-match 'discussion' - WATCH SWTV FANS' VIEW...

'Still Optimistic'
Exeter 1 Swindon 0 - 1/25 to go down, but Hart refuses to throw in the towel after disappointing defeat...

29 March 2011

Brighton 2 Swindon 1
Prutton wonder strike and penalty save still not enough as gap to safety increases to seven...

26 March 2011

Where now, boss?
Unlucky thirteen. Ex-Robin Fallon sends Town to the bottom of League One...

08 March 2011

Hart and Soul
Chairman & new manager promise to give their all in relegation fight - SWTV...

Swindon 0 Exeter 0
Austin sorely missed as Town draw a home blank again - WATCH SWTV FANS' VIEW...

Swindon 0 Tranmere 0
Austin misses a penalty as Town stop the rot - WATCH FANS' VIEW (incl. no sexist remarks!)...

Swindon 0 Yeovil 1
Rose off, Morrison gone, Austin unsettled + Town down to 19th - WATCH SWTV FANS' VIEW...

Bad Day For Wilson
Charlie still a Town player for now - but Morrison Reading-bound...

14 January 2011

Oldham 2 Swindon 0
Wilson 'frustrated' as Town crash back down to earth...

08 January 2011

Swindon 1 Bournemouth 2
Boos at the final whistle as lucklustre Town make poor start to the new year...

01 January 2011

Game On!
Swindon Town v Sheffield Wednesday beats the cold...

03 December 2010

Big Game Build-Up
Collier pleased with preparations as Supermarine players are told: 'Enjoy it!' - WATCH SWTV INTERVIEWS...

Sweet FA!
Supermarine dump Eastbourne out of the Cup - WATCH SWTV POST-MATCH...