Date added: 09 November 2010
Royal Tribute
Prince Harry opens Remembrance Field at Lydiard Park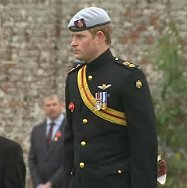 Prince Harry was in Swindon today to officially open the first Remembrance Field dedicated to those in the Armed Forces killed in the Afghanistan conflict.
To mark the occasion at Lydiard Park, the Prince planted a cross dedicated to his close friend and former colleague in the Household Cavalry Regiment, Lance Corporal of Horse Jonathan Woodgate, who was killed earlier this year.
At the ceremony this morning, a two-minute silence was also held to honour the 342 men and women killed in Afghanistan since the war began in 2001, many of whom have been repatriated through nearby Wootton Bassett.

It is expected that up to 35,000 crosses will be planted in the walled Field of Remembrance by members of the public who can now pay their own personal tribute to those who died.

The Field of Remembrance will be open daily from 9am to 4pm from November 9 until November 21.
Opened by HRH Prince Harry
09 November 2010
Radnor Street Remembrance
Swindon honours its war graves at much-neglected cemetry - GALLERY + PICS FROM OTHER REMEMBRANCE DAY CEREMONIES

11 November 2012

Strictly Poppies
Come Dancing stars perform at the opening of Remembrance Field at Lydiard Park - GALLERY

09 November 2012

Final Ride of Respect
Thousands of bikes turn out for last Mother's Day parade through Royal Wootton Bassett - GALLERY...

Wootton Bassett Rocks!
Local people unite to make charity single & video for military charities - GET INVOLVED - VIDEO FILMING THIS SUNDAY...

15 September 2011

Everyone A Hero
Wootton Bassett honours Lieutenant Daniel John Clack, possibly (hopefully) the final repatriation...

18 August 2011

The Final Repat?
Emotional farewell in Wootton Bassett for Marine James Wright...

11 August 2011

Ride of Respect
10,000 bikers ride through Wootton Bassett to show appreciation for fallen soldiers...

04 April 2011

A Mother Mourns
Emotional repatriation at Royal Wootton Bassett...

30 March 2011

Last flight in
Repat flight arrives as ash cloud reaches Swindon at 6:00pm...

15 April 2010

Family pays tribute
A widow and her two sons take their place among the crowds at Wootton Bassett...

Heroes' Send Off
Pictures from the Shrivenham Defence Academy repatriation tribute...

10 November 2009

Welcomed home by many
Second repatriation of the week takes place through Wootton Bassett...

01 October 2009

Barrow Boys
Pictures from the Highworth Pram race in aid of Help for Heroes...

22 August 2009

Home to tears
Second repatriation of the week passes through Wootton Bassett...

30 July 2009

Last road home
Hundreds line the streets to honour the latest fallen soldiers...

28 July 2009

Pride and sorrow
Wootton Bassett a standstill for Lt Colonel Rupert Thornloe and Trooper Joshua Hammond...

Moving tribute
The 150th repatriation passes through Wootton Bassett...

23 March 2009