Date added: 23 February 2011
New Union Square plans unveiled
New plans for empty town centre sites off Fleming Way - HAVE YOUR SAY
Developers of the regeneration of a key site within Swindon town centre are inviting you to have your say this week.
Plans for Union Square, the area between the railway station and The Parade, will be on show for comment on Friday 4 March (2pm – 8pm) and on Saturday 5 March (10am – 2pm) at the Swindon Central Library.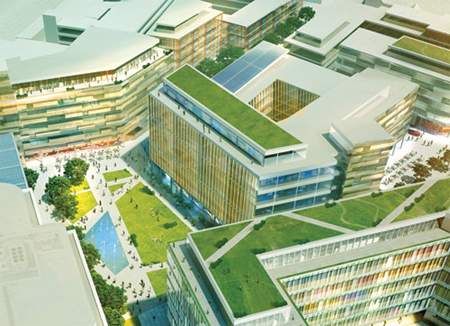 an artists impression of how Union Square will look

The project team for Union Square, led by Muse, was appointed in 2008 following an extensive competition to masterplan the site, which is in the sole ownership of the public sector.
Forward Swindon, which is responsible for delivering economic growth in the borough, is coordinating the role of the public sector in the scheme.
What's planned

The plan includes public spaces; a large garden square (Union Square); high quality office buildings; stylish new homes; retail, restaurant and leisure facilities; a relocated bus station and much more.

"Union Square has regeneration at its heart and will provide a vibrant and genuine extension to the town centre," commented Doug Finlay, for Muse Developments.
"It will give the people of Swindon a new area to meet, shop, work and live – a place that people want to part of."
Have your say
Swindon people can have their say on the emerging master plan on:
Friday 4 March
(2pm – 8pm)
Saturday 5 March
(10am – 2pm)
at
Swindon Central Library
, Regent Circus, SN1 1QG.
At these events attendees will be able to view the plans, discuss the proposals with the project team and have their say about the scheme.

For more information call 0845 262 0138.

You can also sign up to receive free SMS updates by texting 'UNION' to 88008 or view images of the scheme on Flickr using the link provide below.
Swindon 2012?
£200 million pound regeneration deal signed and sealed...