Full range of health treatments under one roof
Why we think you should visit The Askim Clinic
Bowel movements and Botox. Not the sort of thing we talk about everyday here in the office!
So when I was asked to pop along to The Askim Clinic on Newport Street, Old Town, that specialises in Colonic Hydrotherapy I had all sorts of images going through my mind.
But after meeting Carol Lindsey, a Qualified Nurse and a member of the Guild of Colonic Hydrotherapists, I was relieved to immediately be put at ease.
Carol comes across as a very warm, caring person, who genuinely wants to help others.
Offering treatments such as Botox, Derma Roller, Derma Filler, Chemical Peels, Teeth Whitening as well as Colonic Hydrotherapy.
I know first hand that speaking about bowel movements or concerns about appearance seems to be something we struggle with in life, but after meeting with Carol you soon realise there's nothing to be embarrassed or ashamed about.
Colonic Hydrotherapy (also known as Colonic Irrigation) is a safe and effective method for cleansing the colon of waste material by repeated gentle flushing with purified water and special massage techniques.
Due to stress and diet, most people have many layers of this unwanted material. The average person has about 5-15 pounds!

"This procedure is a great way to assist the body with the reversal of multitude of health conditions resulting from improper diet and years of poor elimination," commented Carol.

"Not only will you feel like you have more energy, you can have mental clarity, fewer headaches and clearer skin – I know I have it done myself."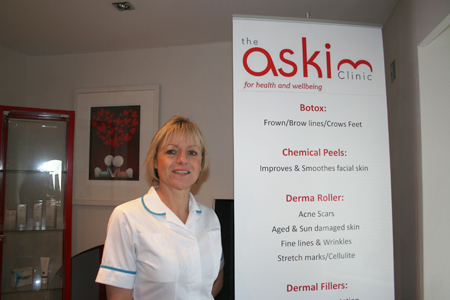 Carol Lindsey at the Askim Clinic
Botox - a celebrity favourite if ever there was one - is a wrinkle-smoothing product which is injected into specific areas of the face.
"Botox relaxes the facial muscles and prevents creases and wrinkles of the kind most commonly formed by smiling and frowning," Carol said, "its not painful and it can even be done in your lunch break if needs be."
Derma Roller is a new non-surgical skin regeneration procedure to help repair and restore the skin's surface treating skin damage from ageing, exposure to the sun, pigmentation, acne scars and stretch marks.
"The treatment takes approximately one hour from start to finish. A course of 3-4 is usually needed for optimum results at 6 week intervals," Carol explained.
"Recovery is quick with minimum downtime and you can return to normal activities shortly after treatment."

Carol is very knowledgeable and obviously well trained, with every concern or question I had answered by someone who knows, so definitely call for a consultation.

The Askim Clinic is open Tuesday-Saturday from 8am to 7pm (4pm Saturday)
The Askim Clinic
30, Newport Street,
Old Town,
Swindon,
Wilts