Date added: 18 March 2011
Rude Trip to Swindon
Sally Pussey's Inn help Inbetweeners raise money for Comic Relief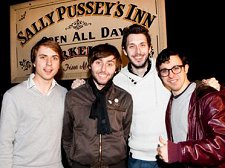 Fanny for the money:
The Inbetweeners at
Cock Lane, Hookers Road, Twatley, Helmet Row and
Swindon's Sally Pussey's Inn
are just some of the places that featured on a special rude road trip on Comic Relief.
Channel 4's The Inbetweeners plotted their own route to visit 50 lewdly-named locations in the UK in just 50 hours.
And the unusually-named Arkell's pub just off Junct 16 was top of their list!
Sally Pussey's Inn generated more than a snigger from the foul foursome as they stopped off in their garish yellow Fiat - aka the 'minge mobile' - for a bite to eat.
The sketch helped Comic Relief raise a record sum on of over £74 million on the night, 18 March 2011.