Date added: 19 October 2012
SIAN O'CALLAGAN - LATEST
UPDATE:

Friday 19 October
2012 5pm
Halliwell is jailed for life for Sian's murder but Police error leaves no justice for Godden family
Swindon taxi driver Christopher Halliwell was finally convicted of Sian O'Callaghan's murder today and sentenced to life imprisonment.
The 48-year-old was told at Bristol Crown Court he would serve a minimum term of 25 years for the abduction and killing of Ms O'Callaghan in March 2011.

But a Police procedural error means Halliwell could not be convicted the murder of Becky Godden, who he admitted also abducting and killing.
The judge deemed Halliwell's interview with the senior detective that led the investigation was unlawful and would not allow the evidence to be used in court.
Godden's family vowed to fight on to see justice was done.
UPDATE:
Tuesday 05 April 1pm
Police have identified human remains found at a second site
Police investigating the murder of Sian O'Callaghan have identified human remains found at a second site as Becky Godden from Swindon.

Miss Godden, who went missing eight years ago, would have turned 29 years old on Monday.

Officers had scoured national databases in a bid to work out who was buried at Eastleach in Gloucestershire.
Taxi driver Christopher Halliwell, 47, from Swindon, has been charged with 22-year-old Miss O'Callaghan's murder.
UPDATE:
Monday 28 March 6.45pm
SIAN O'CALLAGHAN'S FATHER GIVES EMOTIONAL TRIBUTE
Sian O'Callaghan's father has given his first public statement following the death of his daughter.
In an emotional address, Mick O'Callaghan thanked Swindon Police and "all our friends and family for their continued support.... and the community of Swindon for their overwelming kindness."
"Our memories of Sian will be a comfort to us in dark days ahead."
UPDATE:
Monday 28 March 1.12pm
POLICE CLEAR SUJU FLOWERS AS MOB ATTACK HALLIWELL VAN AT MAGISTRATES' COURT
Police have started to clear the flowers outside Suju nightclub that were laid out in tribute to murder victim Sian O'Callaghan.
An officer told SwindonWeb it was at the the request of Sian's family, who asked for message cards to be collected for them to read and for the flowers to be donated to local care homes.
Mob attack Police van at magistrates' court
The man suspected for Sian's murder, Chris Halliwell, has appeared at Swindon magistrates' court to hear the formal charges against him.
An angry mob attacked the Police van carrying the 47-year-old as it arrived and left the court.
UPDATE:
Sunday 27 March 1.05pm
POLICE CHARGE HALLIWELL WITH SIAN MURDER
After four days of questioning, Wiltshire Police have formally charged Swindon taxi driver Chris Halliwell with her murder.
The 47-year-old will appear in front of magistrates tomorrow morning.
More details on second body
"Bones recovered from the site at Eastleach in Gloucestershire are believed to be that of a young woman with an estimated age of between 23 and 30 years," confirmed Detective Supt. Steve Fulcher, who is leading the investigation.

"It has been indicated to me that this young woman was taken from the Swindon area between 2003 and 2005.

"The remains will now be subject of further forensic laboratory tests and a post-mortem examination."
UPDATE:
Saturday 26 March 9.29pm
Hundreds gathered at The Polo Ground in Marlborough Road to pay tribute to Sian O'Callaghan.
Lanterns were launched and a candelit vigile was held.
Pictures by Kris Talikowski Photography and Deborah Coleman.

UPDATE:
Saturday 26 March 3.01pm
HUMAN REMAINS FOUND AT EASTLEACH

Wilthire Police seaching an area in Eastleach for a second body relating to the death of Sian O'Callaghan have found human remains it has been confirmed.
Police were led to the spot where diggers and forensic experts have been concentrating by 47-year-old Chris Halliwell, who was arrested on Thursday.
Police have also been granted until 3am on Monday to question Mr Halliwell regarding the case.
UPDATE:
Thursday 24 March 11.05pm
People gather to pay tribute to Sian
Family and friends have started to visit Suju to pay tribute to Sian O'Callaghan.
The 22-year-old was last seen alive leaving the nightclub in the early hours of Saturday morning.
A 47-year-old man is being questioned by Police in relation to Sian's death.
UPDATE:
Thursday 24 March 10.42pm
A man being questioned over the murder of Sian O'Callaghan and has been identified as 47-year-old Chris Halliwell.
The divorced, father-of-three was employed as a mini-cab driver by Five Star Taxis and lived with his partner in Ashbury Avenue, Nythe.
UPDATE:
Thursday 24 March 6.12pm

Wiltshire Police are "clear" that they have found the body of Sian O'Callaghan, after they questioned a 47-year-old taxi driver arrested for her kidnap.
Another body has also been found at the same location, an embankment just off the B4507 near the White Horse hill.

Although both bodies have not been formally identified, Detective Supt. Steve Fulcher felt that he was "quite clear" that one of them is 22-year-old Sian O'Callaghan, who went missing early on Saturday morning.
UPDATE:
Thursday 24 March 1.06pm
MAN ARRESTED IN CONNECTION TO KIDNAP
Chief Superintendent Steve Hedley has confirmed that a man has been arrested on suspicion of kidnapping Sian O'Callaghan.
Chief Supt. Steve Hedley told reporters:

"A short time ago a man was arrested on suspicion of the kidnap of Sian O' Callaghan. He was arrested by Wiltshire officers in Swindon. Sian's family have been informed of this development.

"It is a significant stage in this difficult enquiry. Our priority is to
find Sian and we are doing all that we can to do so.

"I would like to thank the media and the public for their help.We are
doing all that we can to find Sian.

It is a significant development in this investigation."
A dark green Toyota Avensis estate was removed from the car park as part of the arrest.
UPDATE:
Tuesday 22 March 2011 3.52pm
Reward offered as search concentrates on Savernake Forest
A reward of £20,000 has been offered by an anonymous donor for anyone who can help find Sian O'Callaghan, who disappeared after leaving Suju nightclub in Old Town early on Saturday morning.
Teams of volunteers have been searching Savernake Forest near Marlborough today, the last known whereabouts of the 22-year-old's mobile phone when boyfriend Kevin Reape text her at 3.24am, just 30 minutes after she left the club.
Handbag - dark with beige flower on it
Police consider the whereabouts of Miss O'Callaghan's handbag as crucial to the investigation.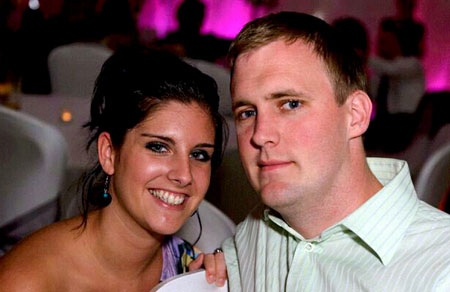 Sian O'Callaghan & boyfriend Kevin Reape
The search continues for Sian O' Callaghan who was last seen leaving Suju nightclub
21 March 2011
Wiltshire Police are increasingly concerned for the safety of Sian O'Callaghan who has been missing since the early hours of Saturday morning.

Sian, aged 22, was last seen leaving Suju nightclub in Swindon at approximately 2:50 am on Saturday 19th March 2011 and has not been seen or heard from since.
She is described as white, 5'3" tall, of medium build with brown asymmetric hair and green eyes. When last seen she was wearing a grey dress, black bolero style jacket, dark coloured tights and flat boots.
She was carrying a dark handbag which had a beige flower attached.
Chief Inspector Mike Jones said: "For Sian not to return home after a night out and not make any contact with family or friends is not only unusual for her but is something that she has never done before.
"Sian doesn't appear to have any reason in her personal life that would indicate that she might want to leave the area and she is normally an avid facebook user but has not used her account since earlier in the day on Friday.
"Sian's family are extremely worried about her and we are offering them our full support. Members of the community are likely to notice increased police presence in Swindon as officers conduct their enquiries and specialist teams carry out searches.
"I'd like to reassure the public that we are conducting a thorough investigation into Sian's disappearance and that we have a team of highly trained officers working on the enquiry.
"It is very important that anyone who knows of Sian's whereabouts or of any reason for her not to stay away contacts us immediately. I would also like to take this opportunity to appeal directly to Sian and ask her to make contact with her family or police to let us know that she is okay."
Anyone with information should contact Wiltshire Police on
0845 408 7000
or Crimestoppers on 0800 555 111 where information may be left anonymously if preferred.
Photos by Calyx

Lighting The Sky For Sian - 28/03/2011
The Hunt Goes On
Police offer £25K reward as Sally Ann John case features on Crimewatch TONIGHT

20 March 2017

Finally.... Justice For Becky
BREAKING: 'Cold, calculating' Halliwell given whole life term for Godden murder as Police continue to investigate other potential victims....

19 September 2016

Still No Justice For Becky
UPDATE: Sarah Hill Wheeler discusses the new coroner's verdict into how Becky Godden-Edwards died and why she still hasn't received justice...

24 April 2013