Date added: 30 March 2011
A Mother Mourns
Emotional repatriation at Royal Wootton Bassett

Irish Guards Major Matthew Collins, 38, and Lance Sergeant Mark Burgan, 28, who lost their lives in Afganistan on 23 March, were repatriated today in emotional scenes in Royal Wootton Bassett.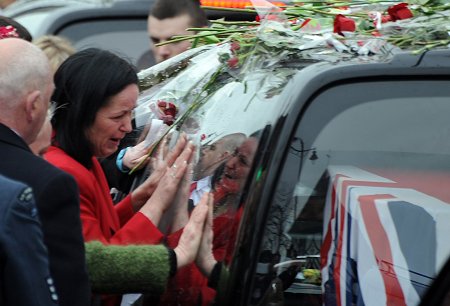 Rita Burgan, mother of Lance Sergeant Mark Burgan
Pictures by Calyx.
Alternative plans for RAF Lyneham
A Center Parc-type redevelopment of RAF Lyneham forms just some of the alternative plans proposed for when the airbase ceases to operate later this year.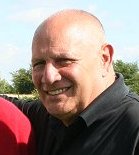 The Wessex Association of Chambers of Commerce will hold an exhibition on
Wednesday 06 April
at the Wiltshire Golf and Country Club in Wootton Bassett as part of a major discussion on the issue.
The event is being hosted by club-owner Eddie Shah, who is asking for a 'quick decision' from the Ministry of Defence over the future of the base.
"The army using the site is the best option, of course," he said, "but we have to think ahead and think quickly as to what will happen if they decide not to use RAF Lyneham for military use.
"The base is crucial in this area economically, and it's up us to show the way forward with a commercial solution if needs be."
More details are available via the Wootton Bassett.biz link below
.

Repatriation of Major Matthew Collins and Lance Sergeant Mark Burgan - 30/03/2011
It's Swindon, Ma'am!
QUEEN ELIZABETH II: In her amazing 70 years on the throne, here's the 4 occasions Her Majesty officially stopped off in Swindon...

Bravery Recognised
Proud evening as Swindon soldiers are awarded Operational Service Medals for Afganistan Tour - WATCH VIDEO

12 March 2014

Radnor Street Remembrance
Swindon honours its war graves at much-neglected cemetry - GALLERY + PICS FROM OTHER REMEMBRANCE DAY CEREMONIES

11 November 2012

Strictly Poppies
Come Dancing stars perform at the opening of Remembrance Field at Lydiard Park - GALLERY

09 November 2012

Final Ride of Respect
Thousands of bikes turn out for last Mother's Day parade through Royal Wootton Bassett - GALLERY...

Wootton Bassett Rocks!
Local people unite to make charity single & video for military charities - GET INVOLVED - VIDEO FILMING THIS SUNDAY...

15 September 2011

Everyone A Hero
ARCHIVE: Wootton Bassett honours Lieutenant Daniel John Clack - the final repatriation...

18 August 2011

The Final Repat?
Emotional farewell in Wootton Bassett for Marine James Wright...

11 August 2011

Ride of Respect
10,000 bikers ride through Wootton Bassett to show appreciation for fallen soldiers...

04 April 2011

Royal Tribute
Prince Harry opens Remembrance Field at Lydiard Park...

09 November 2010

Last flight in
Repat flight arrives as ash cloud reaches Swindon at 6:00pm...

15 April 2010

Family pays tribute
A widow and her two sons take their place among the crowds at Wootton Bassett...

Heroes' Send Off
Pictures from the Shrivenham Defence Academy repatriation tribute...

10 November 2009

Welcomed home by many
Second repatriation of the week takes place through Wootton Bassett...

01 October 2009

Barrow Boys
Pictures from the Highworth Pram race in aid of Help for Heroes...

22 August 2009

Home to tears
Second repatriation of the week passes through Wootton Bassett...

30 July 2009

Last road home
Hundreds line the streets to honour the latest fallen soldiers...

28 July 2009

Pride and sorrow
Wootton Bassett a standstill for Lt Colonel Rupert Thornloe and Trooper Joshua Hammond...

Moving tribute
The 150th repatriation passes through Wootton Bassett...

23 March 2009

The Railway Works
Celebrating Swindon175. A short introduction to the world's finest railway works. Founded this week in 1841....