Date added: 07 April 2011
RAF Lyneham - Plan B
Alternative plans for RAF Lyneham could provide 3,000 new jobs if army say NO
Alternative plans for RAF Lyneham should the British Army say no to taking over the site were put forward at a meeting at the Wiltshire Golf and Country Club last night.
Plan 'B', as it was referred to, would mean a redevelopment of the existing site to include eco-homes, an equestrian centre, educational facilities and an entertainment arena which would also feature a theme-park area.
The scheme would provide an estimated 3,000 new jobs, enough to fill the economic gap that the departing RAF personnel will leave when the base closes for operations later this year it was heard.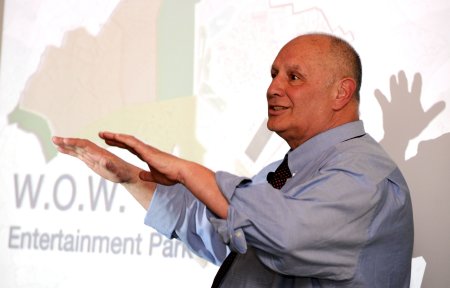 Eddie Shah - see SWTV interview above

The event was hosted by Wiltshire Golf and Country Club owner Eddie Shah, who helped shape the commercial plans.
"RAF Lyneham as we know it is no longer," he said, "and we all have to accept that.

"The army using the site is the best option, of course, but we have to think ahead and think quickly as to what will happen if they decide not to use the base for military use.

"Lyneham was crucial in this area economically, estimated at £90 million per year, and it's up us to show the way forward with a commercial solution if needs be."

More details are available via the Wootton Bassett.biz link below.
photos by Calyx
Hello, Mr President!
Air Force One soars over Swindon as Obama flies in to RAF Fairford - SEE PICS

04 September 2014

The Last Parade
Blue skies and sunshine as RAF Lyneham bid farewell to Swindon - SWTV...

Catsbrain Farm
Bombs, bikes and bi-planes - memories of Eric Barnes, possibly Swindon's last owner-farmer...

02 October 2010

Fairford Airshow 2010
Battle of Britain commemorated as Air Tattoo pulls out all the stops - SEE GALLERY...

18 July 2010

Last flight in
Repat flight arrives as ash cloud reaches Swindon at 6:00pm...

15 April 2010

Their Proudest day
Armed Forces say 'Thank You' to the people of Wootton Bassett...

12 October 2008

Planes, Trains & Automobiles
How Swindon helped pioneer some of the most incredible aircraft ever built incl. Spitfires, Swifts & Concorde...

Skies Over Swindon
09 APRIL 1969 - 50 years ago Concorde flew in to Swindon - and in them days you were allowed on the runway! WATCH VIDEO

Air Tattoo 2007
Gallery and SwindonWebTV of this year's flying spectacular...