Date added: 13 May 2011
Art On The Menu
Local artist's work goes on display at Highworth hotel and restaurant
A hotel and restaurant in Highworth has proved to be the ideal venue to display local artwork.
In the first planned exhibition at The Highworth (formerly The Jesmond House), paintings by Julia Walton have been attracting considerable interest since a chance discussion with the hotel owner Adrian Wiley.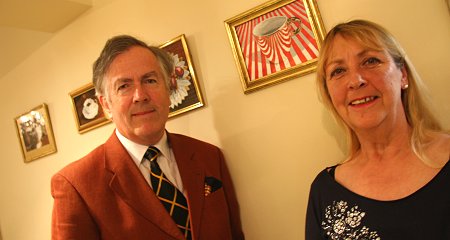 Adrian Wiley and Julia Walton
"Adrian really likes my work and suggested we use the main bar as a gallery for it," Julia said, "and it's wonderful to see them here."
Julia, who studied art at the West Sussex College of Art produced the paintings in the last 2-3 years. This is the first time they have been put on display and all the paintings on show are for sale - bar one, which Julia has already gifted to a local soldier who is about to leave for a tour of duty in Afganistan.
"He said it would remind him of home," Julia said.
The Highworth Hotel & Restaurant
Bent Art Gallery Sale
The opportunity to see and buy rare originals by acclaimed Old Town artist - THIS SATURDAY...

Juice The Job!
Thirst-quenching thank-you to B&Q site workers from the Highworth Business Group ...

20 April 2011