Win A Champagne Dinner For 4!
At Colley's in Lechlade, superb fine dining
The concept of Colleys is simple - superb, set-price dining.
With only one sitting at 7:30 pm, your evening begins with drinks served at your table with home baked breads before being served an award-winning array of perfectly prepared starters, main courses and desserts.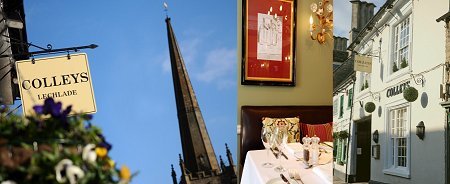 Restaurant, cafe and functions
Menus change fortnightly, with a mix of classic and contemporary cooking using passion, creativity and locally sourced produce.
Sound tempting?! We think so!
And even better, we've secured a truly great prize from Colley's in Lechlade-on-Thames....
A champagne dinner for four!
The winner and his/her guests will enjoy the very best Colley's have to offer plus a bottle of the proper stuff to make it an evening to remember - all completely on the house.
Plus...
all entrants to the competition will have the chance to dine for the reduced price of just £50 for two people - including a
FREE
bottle of house wine.
Just enter below for your chance to win.
Lechlade is situated on which river?
1. Nile
2. Thames
3. Avon