Date added: 19 May 2011
Thin Lizzy Jam
But who is that on stage with the legends of rock?!
Thin Lizzy warmed up for their forthcoming MECA gig with a tune up and jammin' session - with Council chief executive Gavin Jones!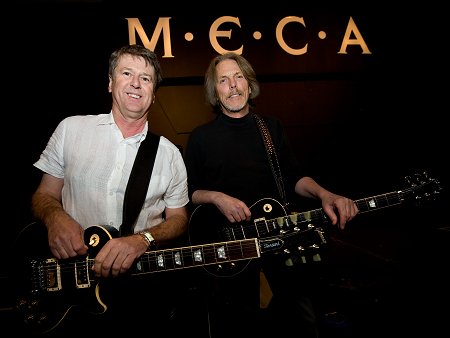 Gavin Jones and Scott Gorham

The band will play their only UK headline date in Swindon on 02 June, and Lizzy fan and keen guitarist Jones was invited to join the band's legendary lead Scott Gorham for a sound check.
The pair even managed a performance of Thin Lizzy's classic 70s hit 'Jailbreak', which was aired live on BBC local radio.
"I just hope I did it justice!" Jones said.
It's not too late to enter our competition to win 2 tickets for Thin Lizzy's gig at MECA.
Just enter via the link below.