Date added: 06 June 2011
Hey good looking!
Hannah Golding takes the Miss Swindon 2011 crown
The Miss Swindon & Miss Wiltshire competition came to conclusion at Liquid & Envy on Saturday night.
And it was 22-year-old teacher at Lyneham Pre-school
Hannah Golding
who grabbed the Miss Swindon title.
22-year-old Dance Teacher and Early Years Assistant Jo Logan was crowned Miss Wiltshire.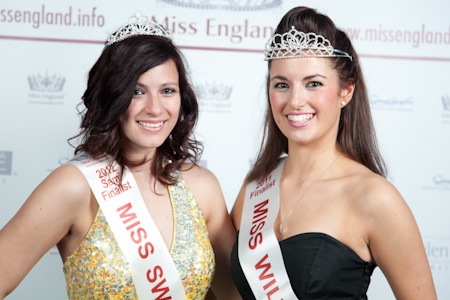 Miss Swindon and Miss Wiltshire 2011:
Hannah Golding and Jo Logan
The competition had been running for the last 6 weeks, with two heats the eventual winers.

Hannah will now represent Swindon for the next year and will enter the Miss England semi-finals in 2012.
Hannah also won the title of Miss Charity as she raised the most for charity during the competition. Jo also won Miss Green Goddess for her Lady Gaga inspired Eco-outfit!
Megan Lewis won Miss Popularity, which was based on the public text vote that accompanied the competition.

Miss Swindon 2011 - 06/06/2011
Hello misses!
See pictures of the new Miss Swindon and Miss Wiltshire 2010...

10 May 2010

Vote Miss Swindon!
Forget the Euro elections, there's a far more important reason for the people of Swindon to vote this week...

03 June 2009

Hiya gorgeous!
Sherie Smith is crowned the new Miss Swindon...

18 May 2009