Date added: 09 August 2011
Twin Town Tandoori II
The spice is right again for Salzgitter and Swindon mayors at The Curry Place
A special banquet marked the return to what the mayor of Salzgitter describes as 'my favourite Indian restaurant'.
Mr Ali, the owner of The Curry Place in Rodbourne, welcomed back Frank Klingebiel from Swindon twin-town Salzgitter during an official visit this week. Mr Klingebeil last visited with mayor Steve Wakefield in 2009.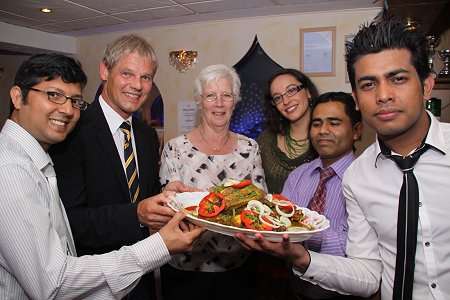 Salzgitter mayor Frank Klingebeil (second left) with Swindon mayor Ray Ballman (centre), Curry Place owner Mahmod Ali (second right) and Beeteshoke De (r)
He was joined by his family and Swindon mayor Ray Ballman, who enjoyed an evening of fine food and a unique dish created especially for the occasion - a special chicken murgh khanza.
"It's a traditional Indian dish that's well flavoured and perfectly spiced. And not too hot," said Mr Ali, "just like our special guests like it!"
Rodbourne, Swindon
06 August 2011
Pictures by John Knight.
The Big Bang Curry
Special Curry Place feast on eve of 'the end of the world' (but they are still taking weekend bookings, just in case!)...

20 December 2012

Jah-Fraizi, Sir?
We've seen it all now.... It's a curry with the X-factor in Rodbourne!...

06 December 2012

Match of the Delhi
Curry Place restaurant raises money for African footy charity…

21 July 2009