Wat'er Day To Get Your Results!
A Level students brave the rain as New College celebrates 99% pass rate

Students were smiling through the rain today at New College after a record number of 852 successfully passed their A-levels.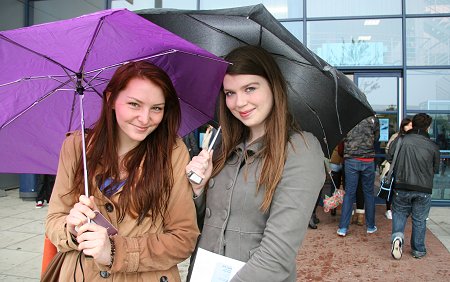 A level students at New College today
36% of entries at New College earned A*, A or B grades, with students achieving a perfect 100% pass rate in 35 subjects including Accounting, Art & Design, Classical Civilisation, Chemistry, Computing, Electronics, English Language, English Literature, French, Geography, German, Government & Politics, History, Law, Philosophy and Sociology.
Overall students at New College achieved a 99% pass rate.

New College is Swindon and Wiltshire's largest A-level centre with the widest choice of subjects, currently over 60 on offer, and has been top of the Government's league table for all colleges in Wiltshire and Avon for the past 10 years.