Date added: 22 August 2011
Chart Topper!
It's a number one single for Swindon singer Josh Kumra - WATCH VIDEO
The Official Chart on Sunday 21 August was a big night for Swindon singer, songwriter Josh Kumra - he hit number one in the UK!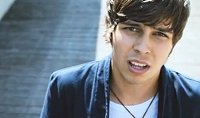 His single
'Don't Go'
with Wretch 32 was the biggest selling single of the week and looks set to stay at the top of the charts after continuing to be a top download on iTunes.
His girlfriend also plays drums on the track.
Just a year on from playing gigs around pubs in Swindon with his band Kicaberry, Kumra's rise to stardom has come as quite a surprise.
"One minute I'm playing at the Moonrakers, the next I'm listening to Reggie Yates introduce my song as number one. It's been amazing!" Josh, who stills lives in Pinehurst, said.
Wretch 32 featuring Josh Kumra
Swindon, of course, hit the headlines in 1998 when
Billie Piper
became the youngest artist ever to debut at number one with "Because We Want To". Her second single "Girlfriend" also topped the charts.
In the 1970s, former Swindon schoolboy
Gilbert O'Sullivan
went to number one in the 'hit parade' (as it was known then) with "Clair" and "Get Down".
No less a feat, 70s supergroup
Supertramp
led by Swindon's
Rick Davies
went to number one on the Billboard chart in the USA in 1979 with their album "Breakfast in America".
And finally, the Knight in White Satin himself, Swindon-born
Justin Hayward
led
The Moody Blues
to back-to-back album success in 1970 & 71 with "A Question of Balance" and "Every Boy Deserves Favour".
Josh Kumra Presents...
A fantastic, intimate night of music at 20 at The Kings featuring some of the very best local Swindon acts and bands - SEE PICTURES

Best Of Swindon 2013
Jahmene Douglas headlined an Oasis concert that didn't disappoint, writes Mallory Nicholson - REVIEW + GALLERY

27 May 2013

Get Down Swindon!
Gilbert O'Sullivan - number one in the charts 40 years ago this week - WATCH VIDEO

06 April 2013

Big Arts Day 2012
And what a great day it was! Here's our gallery from Swindon's big summer gig...

15 July 2012

Justin Hayward
Happy 70th birthday to Swindon's rock God and Moody Blues legend...

Billie Piper
Swindon's pop star turned award-winning actress...