Date added: 21 September 2011
Hydrogen First For Swindon
New filling station for ec-cars opens at Honda
A car, a taxi, an ambulance and a bus were the first to use the pumps at the new hydrogen filling station in Swindon.

The new facility is open to anyone developing or using hydrogen-powered vehicles. It can fill vehicles at both 350 bar and 700 bar, the two standard filling pressures adopted by the world's major vehicle manufacturers - including Honda, whose Clarity hydrogen-powered model is proving popular in California.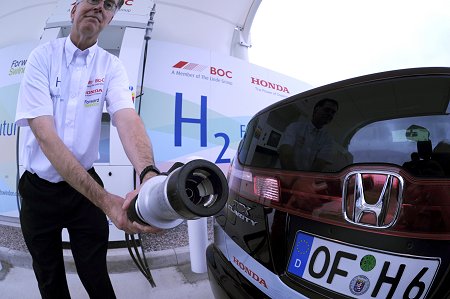 the filling station at Honda Swindon
Built and operated by industrial gases company BOC, the venture is the result of a partnership between Honda, BOC and economic development company Forward Swindon.
The initiative is seen as the first stage in a Government scheme aimed at carbon-free motoring.

The M4 motorway from junction 15 to South Wales is to become Britain's first 'hydrogen highway', with strategically placed refuelling points along the route for hygrogen fuelled and electric cars.
Predictions point to there being 'hundreds of thousands' of hydrogen-powered cars in years to come compared to just a 'handful' today.
Pictures by Calyx.
Honda Fire
Production resumes after weekend blaze...

25 January 2016

I Predict A R-iot
Kaiser Chiefs frontman Ricky Wilson in Swindon to collect new Honda Civic Type-R - SEE PICTURES

20 August 2015

Honda Task Force
We speak to project leader Jill Annal ahead of the job fair organised for redundant workers...

19 May 2014

Honda Take Stock
340 production workers at Swindon plant face job threat after shift change...

25 March 2014

Honda To Cut 800 Jobs
Downturn in EU sales blamed for shock news today - but is it because the new Civic is (hate to say it) plain 'ugly'? - COMMENT

11 January 2013

Honda Launches CR-V
Big boost for Swindon as Business Secretary praises car plant investment...

07 September 2012

Recovery Starts Here?
New Honda Civic rolls off the production line as 500 new jobs announced...

19 December 2011