Date added: 05 September 2011
Nice day for a swim, David!
UPDATE: 7.32pm 12 September 2011
Walliams completes swim to Big Ben
After starting in Lechlade eight days ago, David Walliams has finally completed his swim of the Thames - raising over £1.1 million in the process.
The comedian battled illness and stomach complaints to complete the 140 journey.
"I'd like to thank everyone who supported me," he said. "From the start to the finish, I couldn't have done it without them."
Little Britain star starts Sport Relief Thames Challenge in Lechlade
If you were up early in Lechlade this morning, you will have probably seen a very interesting sight - comedian David Walliams jumping in the Thames!
The Little Britain star chose the
The Riverside pub
as the starting point for his Thames Challenge, a bid to swim the whole length of the river in aid of Sport Relief 2012.
And after diving in just after 8.20am, Walliams swam under Half-Penny Bridge to big cheers from a large crowd on the riverbank who turned out to support him.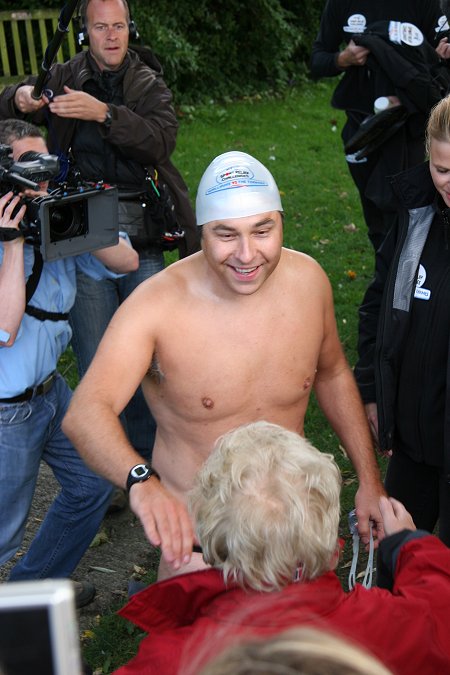 Walliams at The Riverside just before starting his swim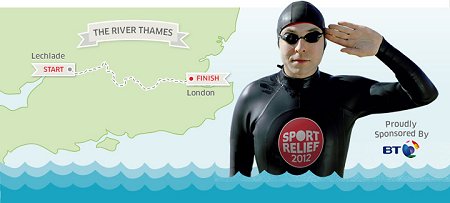 After a steady crawl past support boats and swans (his biggest worry), Walliams made his first stop to negotiate St. John's Lock before jumping back in and proceeding on past the Trout Inn.
On day one, Walliams hopes to reach Bablock Hythe in Witney, Oxfordshire by late afternoon.
In all, the comedian plans to will swim around 150 miles over 8 days, finishing in London.
No stranger to big challenges, Walliams swam the English Channel in 2006, raising over £1 million in the process.
David Walliams Thames Challenge Start
Lechlade-on-Thames
05 September 2011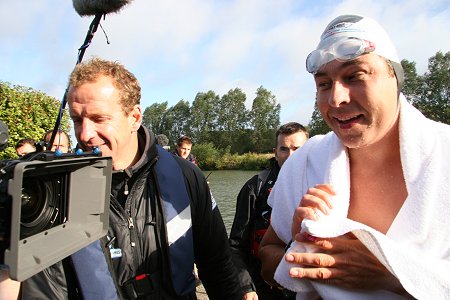 Walliams joked after his first stop at St. John's Lock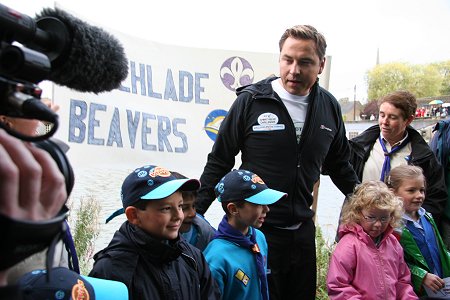 Thanks for all the support:
Walliams spent half-an-hour meeting people on the riverbank
who had turned out to see him off
incl. receiving some good luck cakes from the Mayor!
The challenge will be televised by the BBC in a documentary prior to the live evening of Sport Relief in March 2012.
You can sponsor David online via the Thames Challenge website, link below.
He'll also be appearing on
The One Show on BBC1 tonight at 7pm
to talk about Challenge.
5,000 Lengths!
Tremendous effort from Highworth schoolchildren for Sport Relief...

22 March 2014

Dive In!
David Bellamy opens Swindon Sub-Aqua Club's new home - SEE PICTURES

28 May 2013

Wat'er Day For A Swim!
There's no putting off the Swindon Sub-Aqua Club annual charity dip - PHOTOS

13 January 2013

Coach Potato
Swindon fitness fanatic turns sofa sloach for Sport Relief...

21 March 2012

Flipping mad!
The day Kirsty got rather wet swimming down The Thames - in January! - SWTV..