Date added: 02 September 2011
Inspired by the X-Factor?
Win a chance to learn to sing at Ronstars in Swindon + record your own CD!
If you've ever wanted to learn to sing properly, well don't be nervous. Now's your big chance!
Ronni Bailey has taught hundreds of people of
all ages
to sing since 2003 and this month she is starting a brand-new term of
Ronstars in Swindon.
And we've teamed up with her to offer a fantastic competition prize!
But more of that later.....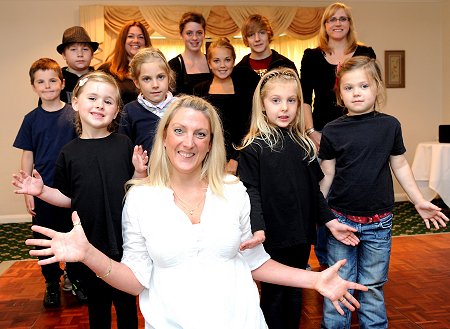 Ronni and just a few of her all-singing Ronstars
Ideal time to join the group
Each weekly class will be aimed at its specific age group and includes:
- A fun approach to vocal warm ups & techniques
- Singing & theatre games


- Learning a range of popular songs with harmonies

Ronstars Factor also gives students the opportunity (only if they want to) to get up for the first time in front of others and overcome any nerves they may have and begin to develop performance confidence.
And for more confident students, the opportunity will be available to demonstrate their talent and for students to learn from each others performances.
There will also be chances for those students who can sing and play an instrument as well as singer/songwriters to perform their own songs.
A little bit about Ronni...
Ronni Bailey, who will be running the classes, is a female singer with 15 years extensive professional singing and performance experience of live gigs, concerts & radio, working both as solo artist & lead singer with bands and in shows.
Ronni has a BA Hons in Popular Music which has been further enhanced with studio recording and music technology qualifications, stage craft, performing arts and dance training.
In 2003 Ronni set up her own Natwest Award Winning Princes Trust supported business called Little Ronstars which is developmental musical workshops for preschool children which is now expanding to Ronstars fun vocal and performance groups for school children and adults.
After starting her own family of two children in 2006, Ronni began teaching private singing lessons and working with the
Wilkes Academy
(set up by Jonathan Wilkes and wife, Nikki (from Swindon)) in 2009. Ronni added to her professional training by completing the Association of Teachers of Singing course 2010.
As a part of the British Voice Association Ronni encourages a healthy and efficient use of the voice.
Check out Ronni's website, link below, where you can book for the new term or simply give her a call.
Enter below for your chance to enjoy!

- a FREE term at Ron Stars Singing School
- 2 FREE private lessons with a professional vocal coach
- recording your own CD at the end of it
Who knows, the X-Factor may beckon after a start like that!
Gary Barlow is a member of which band?
1. JLS
2. The Beatles
3. Take That