Date added: 08 November 2011
4-for-3 at Colleys in Lechlade
4-for-3 dining Tuesday to Friday with mySwindonWeb
The concept of Colleys is simple - superb, set-price dining.
And with the following SwindonWeb offer, you can enjoy:
(excludes 22 & 23 November)
With only one sitting at 7:30 pm, your evening begins with drinks served at your table with home baked breads before being served an award-winning array of perfectly prepared starters, main courses and desserts - all 4-for-3.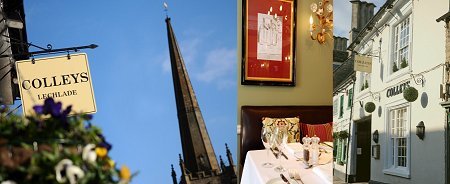 Restaurant, cafe and functions
Menus change fortnightly, with a mix of classic and contemporary cooking using passion, creativity and locally sourced produce.
Sound tempting?! We think so!
Just mention the offer when booking!