Date added: 16 October 2011
Officially 'Royal' Wootton Bassett
'An example to the nation' says Princess Anne at official naming ceremony
The road signs have already said it, but today it was made official by Princess Anne.
From now on Wootton Bassett will be known as 'Royal' Wootton Bassett after her Majesty's Letters Patent were delivered on behalf of the Queen in front of thousands of people at a ceremony this afternoon.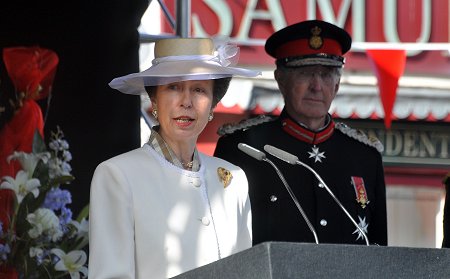 Princess Anne at the official naming ceremony in
Wootton Bassett high street
The Royal prefix was awarded to the town in recognition of the community's role in honouring members of the armed forces as they were repatriated via RAF Lyneham.
And fittingly thousands of local people gathered in the high street to enjoy the day as the Princess Royal praised their involvement, describing Wootton Bassett as 'an example to the nation'.
Those attending also included the Prime Minister David Cameron and new Defence Secretary Philip Hammond.
Royal Wootton Bassett
16 October 2011
Photos above by Calyx and Jodie Henderson.
Gallery photos by Deborah Coleman.

Royal Wootton Bassett Letters Patent Day - 16/10/2011
Diana in Swindon
We look back on the Princess's visits to town - both official & unofficial - WATCH VIDEO

30 August 2017

It's Swindon, Ma'am!
And happy 90th! But after 18 years without a stop-off, surely we deserve to get the bunting out just one more time?....

Festival of Remembrance
The annual concert organised by Swindon Royal British Legion to remember all those who have fought for their country - 02 NOVEMBER

Bravery Recognised
Proud evening as Swindon soldiers are awarded Operational Service Medals for Afganistan Tour - WATCH VIDEO

12 March 2014

Radnor Street Remembrance
Swindon honours its war graves at much-neglected cemetry - GALLERY + PICS FROM OTHER REMEMBRANCE DAY CEREMONIES

11 November 2012

Strictly Poppies
Come Dancing stars perform at the opening of Remembrance Field at Lydiard Park - GALLERY

09 November 2012

Final Ride of Respect
Thousands of bikes turn out for last Mother's Day parade through Royal Wootton Bassett - GALLERY...

Sleep Out For Heroes
Hundreds set to brave the cold for charity in Swindon town centre - so why not join in?!...

14 October 2011

Singing For Heroes
150 School children perform a repertoire of songs on Remembrance Day, raising money for Help for Heroes - 11 NOV...

24 September 2011

Wootton Bassett Rocks!
Local people unite to make charity single & video for military charities - GET INVOLVED - VIDEO FILMING THIS SUNDAY...

15 September 2011

Everyone A Hero
ARCHIVE: Wootton Bassett honours Lieutenant Daniel John Clack - the final repatriation...

18 August 2011

The Final Repat?
Emotional farewell in Wootton Bassett for Marine James Wright...

11 August 2011

Ride of Respect
10,000 bikers ride through Wootton Bassett to show appreciation for fallen soldiers...

04 April 2011

A Mother Mourns
Emotional repatriation at Royal Wootton Bassett...

30 March 2011

Royal Tribute
Prince Harry opens Remembrance Field at Lydiard Park...

09 November 2010

Last flight in
Repat flight arrives as ash cloud reaches Swindon at 6:00pm...

15 April 2010

Family pays tribute
A widow and her two sons take their place among the crowds at Wootton Bassett...

Heroes' Send Off
Pictures from the Shrivenham Defence Academy repatriation tribute...

10 November 2009

Welcomed home by many
Second repatriation of the week takes place through Wootton Bassett...

01 October 2009

Barrow Boys
Pictures from the Highworth Pram race in aid of Help for Heroes...

22 August 2009

Home to tears
Second repatriation of the week passes through Wootton Bassett...

30 July 2009

Last road home
Hundreds line the streets to honour the latest fallen soldiers...

28 July 2009

Pride and sorrow
Wootton Bassett a standstill for Lt Colonel Rupert Thornloe and Trooper Joshua Hammond...

Moving tribute
The 150th repatriation passes through Wootton Bassett...

23 March 2009

The Railway Works
Celebrating Swindon175. A short introduction to the world's finest railway works. Founded this week in 1841....