Date added: 08 November 2011
Santa Comes Early To Support Goldenhar
Schoolchildren & TV Doctor Chris Steele enjoy sneak peak at Brunel Centre Christmas Grotto
Children from Westlea school and Doctor Chris Steele from ITV's 'This Morning' enjoyed a sneak peak at the Christmas Grotto in the Brunel Centre today.
For the second year running, inSwindon BID and The Brunel will be providing a five-week long Santa's Grotto, and are combining to raise money for Goldenhar Family Support Group UK.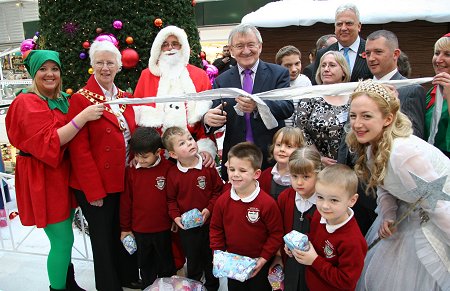 Dr Chris Steele, children from Westlea school, Santa & his helpers at Santa's Grotto in the Brunel Centre
Goldenhar Syndrome is a rare condition with no known cause, which usually affects one side of the body and can give the sufferer problems with breathing and hearing, as well as producing pains in the ribs and vertebrae.
And first in the queue to see Santa was Swindon's Morgan Sharpe, who suffers from Goldenhar.
Morgan's mum, Kerry Holmes said: "He was very excited to see Santa and it was pleasure to meet Dr Chris again. I can't thank him enough for making the effort to be here today."

Morgan has previously met with Dr Chris when the family appeared on ITV1's This Morning with Philip Schofield and Fern Britton back in February 2009. Dr Chris has now become patron of the charity and is keen to show his support to activities involving the charity where he can.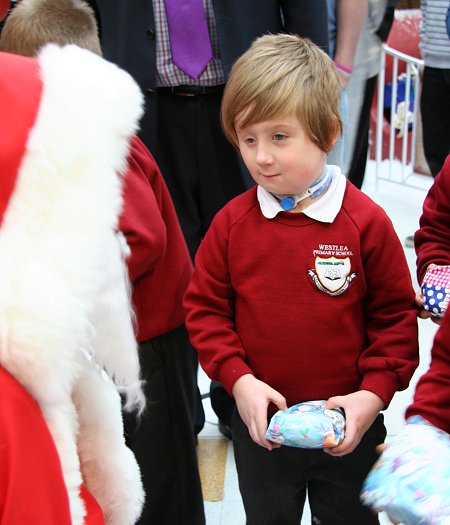 Morgan Sharp receives a present and enjoys Santa's Grotto with his classmates from Westlea school (below)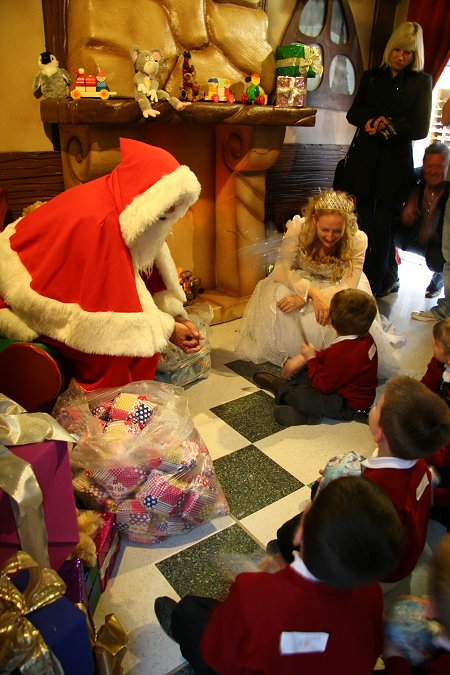 "This is the third year we have organised the Santa's Grotto in The Brunel and each year it is a great success," commented Simon Jackson, CEO of inSwindon BID.
"This year, The Brunel and inSwindon wanted to share this success with a charity and decided to show our support to Goldenhar Family Support Group UK. Morgan and his family have gone through a lot over the years and hopefully the Santa's Grotto will only create more awareness of the charity and Swindon's support to other families across the UK."
The grotto officially opens to the general public in conjunction with the town centre's Christmas Lights Switch-On on Thursday 17th November.
Great To Be Eight!
It was birthday kisses all round for brave Morgan Sharpe as he celebrated his 8th birthday over the weekend - SEE PICS

09 February 2015

Running For Goldenhar
Fantastic messages of support & donations as Kirsty & Pete get ready for the London Marathon....

27 March 2014

What A Boy!
Goldenhar sufferer Morgan shines at Christmas concert - and shows Holmes' talent for music! - WATCH VIDEO

06 January 2014

Goldenhar Family Day 2010
A weekend of fun raised money and gave awareness for the Goldenhar Family Support Group...

15 June 2010

Nicholas McCarthy in Swindon
Acclaimed concert pianist born with only his left hand plays in aid of the Goldenhar Support Group...

10 June 2010

Bands and burlesque
An evening of live music, entertainment and lots, lots more...

23 March 2009

A quest for charity
Holmes Music organises charity night for Goldenhar Family Support Group...

11 March 2009

Happy nude year
Swindon band get their ROX off for charity...

11 December 2008