Date added: 23 December 2011
Swindon Brewery adds to pub estate
Arkell's buy The Fox and Hounds in Haydon Wick and their first pub in Malmesbury

Swindon brewery Arkell's have added two more pubs to their estate - The Fox and Hounds at Haydon Wick and The King's Arms Hotel in Malmesbury.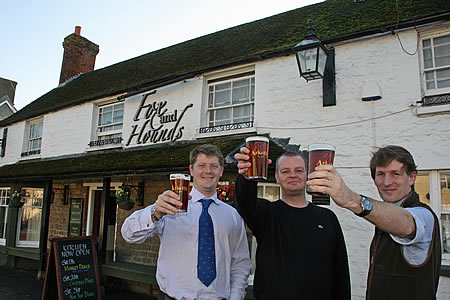 Cheers to the Fox and Hounds:
Alex Arkell, Landlord Brendan Lee and George Arkell
Both were purchased from Enterprise Inns at market price.
Brewery chairman, James Arkell, said: "These new purchases fit our strategy of continual investment in pubs and small town hotels which have a thriving community around them."

The Fox and Hounds in Haydon Wick first opened as a beerhouse around 1840, just as the GWR and Arkell's started in Swindon.
No longer in the country, as Swindon's western expansion began surrounding the village some 30 years' ago, The Fox and Hounds retains a rural feel and is well-supported by the local community.
The King's Arms is Arkell's first acquisition in the historic town of Malmesbury. With twelve letting rooms, two bars, a restaurant and a function room for up to 120 people, this pretty hotel offers lovely overnight accommodation and a warm welcome.
According to James: "The licensed industry changes all the time, and breweries and pub companies must too. We've always known this and adapt our estate of pubs accordingly, that's why we've been in business for over 160 years, just like the majority of fellow family brewers across the country who understand the licensed trade better than anyone.
"People want more from pubs than just a great pint of beer and someone to chat to – those are essential. Good food is important for every licensed premises and a small country town hotel should be friendly and cosy with room for a good party."

Over the last six years, Arkell's has made a number of significant investments in pubs and hotels across the region. In 2006 it bought The Bear Hotel in the centre of Wantage, significantly upgrading the bars and accommodation to make The Bear into a thriving town centre hotel.

In 2007 the brewery bought the 16th century 26-bedroom Lansdowne Strand Hotel in Calne, and the following year it purchased the iconic Riverside Inn at Lechlade, next to the most up-stream marina on the Thames and where, earlier this year, David Walliams began his incredible Thames charity swim.

In 2009 the brewery turned its attention back to pubs and bought The Mason's Arms at Meysey Hampton. Earlier this year it bought a closed Oxford pub, reopening it as The Rickety Press. The pub, located at Jericho, is once again thriving.

Alongside new acquisitions, the brewery also invested in its estate of pubs, most recently a six-figure sum in The Bull Hotel, Fairford, which the brewery has owned since 1973.
Ten Minutes to Top Food
The White Horse at Woolstone proves that good food isn't just the reserve of expensive restaurants...

15 November 2011