Inspirational Women in Swindon
Liz Brackenbury meets Olivia McCann in the first of a new series
Olivia McCann is one busy lady.
Flying between the three floors of the newly expanded Swindon Scrapstore and abound with contagious energy, I can't wait to find out exactly how she became involved with the Scrapstore and what makes her so excited about other people's rubbish!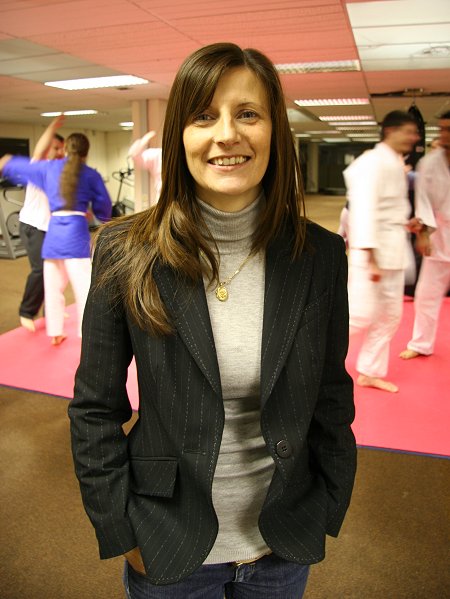 Not one to dwell on the past, Olivia attributes the death of her mother as a motivation to make a career change. Thus a move from assistant manager at a Garden Stone Centre into a Project Manager role at the Scrapstore. Now, 11 years later, this forward thinking lady is more passionate about the Scrapstore than ever.
Her position as Project Manager has seen her paid hours cut from 18 to 12 hours a week in recent months, though in reality this is a 60 hour a week labour of love for one very determined woman.
Having moved into bigger premises, an even bigger workload has been generated, with Olivia still having to co-ordinate the 21 volunteers, manage the furniture warehouse, the Scrapstore and the newly opened Scappers gym alongside administrative duties and fundraising.
It is immediately clear that her job description belittles the many diverse roles that she actually does to keep the Scrapstore running.
The 'bug'
So what keeps her going? "You get the bug," she says, smiling, "It's about making a difference not just to the environment but to all the people who support the scheme and to the hundreds of volunteers who've been a part of it".
The Scrapstore's mission statement is "An environmental charity that promotes the re-use of materials for the benefit of the local community through art, educational and recreational activity."
But scratch just beneath the surface and it is apparent that it is so much more than this.

Environmentally, the Scrapstore is at the forefront of reducing its carbon footprint. On the ground floor, the furniture warehouse arm of operations takes in donations of unwanted office, industrial and domestic furniture/equipment, preventing it from going into landfill sites.
It is then sold at rock bottom prices which in turn helps out those in the community especially those on lower incomes to benefit from quality items at cheap prices, with the money raised going back into the charity.
The first floor is a creative arts shop with items priced to sell, and is also home to a treasure-trove of creative materials, all previously destined for landfill yet diverted here to become a low cost community resource, waiting for a little imagination to breathe new life into these discarded items. Help is usually on hand to generate ideas and inspiration!
With so much focus on the governments 'Green' agendas it is difficult to comprehend that having diverted thousands of tons of commercial and domestic waste from landfill sites and into re-useable resources, this charity has seen its funding slashed, meaning Olivia is literally fighting for the financial survival of this vibrant community enterprise.

It is somewhat appropriate that it's the top floor that really cements the whole essence of what drives Olivia to carry on. There's a creative space that caters for children's birthday parties and an Arts and Craft workshops accessible to any group in the community to encourage the use of recyclable materials for artists purpose at prices to include everyone.

For a lady who is battling daily for the Scrapstore's future its seems appropriate that her new venture is Scrappers gym.
A grant has enabled the gym to be kitted out with an array of equipment and is accessible to all from ages 13 - 113 for only £2.00 a session.
"I am passionate about getting people, particularly teenagers, into the gym. It'll give them a positive focus, good role models and keep them off the streets, plus it's affordable too" Olivia enthuses.
Improving our local community

This venture empasses everything that Olivia has spent the last decade building on within the Scrapstore and gives an insight into just how deep her values lie in supporting people within the community.
It offers limitless personal development opportunities regardless of background, age, poverty or social and economic circumstances, ability or disability, with the aim of improving the conditions of life for people within our local community.
She understands how seeing someone as a person, not just as a problem or a burden on society, can make a huge impact on the direction they take in life and benefit the community as a whole.

This ethos is echoed throughout the enterprise by her total commitment to train volunteers for all walks of life and for all ages, from people with mental health issues, physical and learning disabilities, people who have been made homeless or have alcohol and drug issues, the most vulnerable in our society, alongside the unemployed, the retired, and those as passionate about the charity as she is.
Financial support needed
Unfortunately for all that Olivia has achieved, this cannot continue on love alone. "We are struggling financially. The grants are just not there and like everyone we're pitching for every possible penny of funding to keep us going."
Financial support is desperately needed to continue running and to develop. Any individual or business wishing to know more, join the membership scheme, help financially, become an active member of the committee or who may be able to offer martial arts skills to the gym please contact Olivia on 01793 513982

All the facilities including the gym and Scrapstore are open to the general public on a pay as you go basis.

Scrapstore resource Memberships are from only £20.00 a year for a family – meaning you can pop in and take unlimited arts resources from the store area for a whole year.
Group/School rates available at low cost.


Paint Store selling a wide variety of re-useable paints - perfect for any decorating projects. Prices from £1.00 a litre of paint.
The gym costs £2.00 a session.
Scrappers Gym
VIDEO: Getting fit in Swindon. We visit Scrappers Community Gym in Westmead...