Date added: 18 April 2012
Wet Through But Still Smiling!
School children celebrate 100 day countdown to the Olympics in Swindon town centre
It may have been pouring buckets but school children in Swindon still celebrated that fact that it's now only 100 days to the London Olympics.
At an event in Wharf Green under the BBC Big Screen, five local schools were invited to take part in a day of demonstrations and taster sessions.
And despite the rain, there were still smiles as children enjoyed interactive games against other Big Screen across the country as well as meeting Olympic athletics and organisors.
Olympic Torch coming to Swindon
In just under 5 weeks time, the Olympic torch relay will be passing through Swindon on
23 May
, with another big event planned in Wharf Green open to all.
Olympics 100 day Countdown
18 April 2012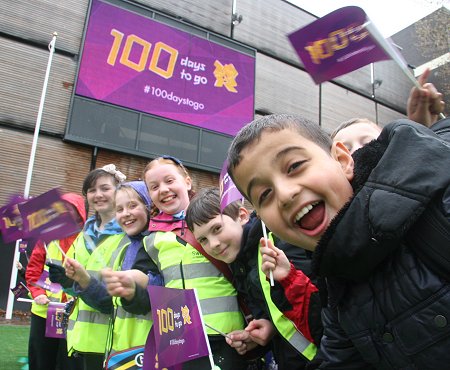 Warm Up at Wembley
Athletes from Esprit Gymnastics Club demonstrate their talents - SEE GALLERY

08 August 2012

Get Sporty In Swindon
If you've been inspired by the London 2012 games, here's a few places you can try the events yourself!...

An Olympic Day for Swindon!
Thousands cheer as Didier Drogba leads the Olympic torch relay through Swindon - SWTV VIDEO incl. DROGBA INTERVIEW + OLYMPIC SIZE GALLERY...

23 May 2012

Flamin, ek!
The Olympic Torch is on its way to Swindon - OFFICIAL ROUTE ANNOUNCED...

07 November 2011