Date added: 02 August 2012
GWR History Preserved
Sports Ground gates donated to STEAM Museum before land is developed
If you've played sport in Swindon over the last 50 years (or just parked your car watching the Town) then you'll probably remember these gates.
Thousands of people passed through them at the entrance to the old GWR Sports Ground in Shrivenham Road to play cricket, tennis (on grass), bowls, football & even golf. Swindon once had a very popular summer putting league, you know!
But since the club finally closed in 2005, they've stood forlorn, rusting and padlocked as a sad, poignant reminder of Swindon's railway past - until today.
David Wilson Homes, who are developing the former sports ground site, have donated them to STEAM, the museum of the GWR, who plan to erect them outside as a proud sporting reminder of the once great Swindon Works.
SWTV were there when the gates were kindly handed over + we found the Swindon man who built them!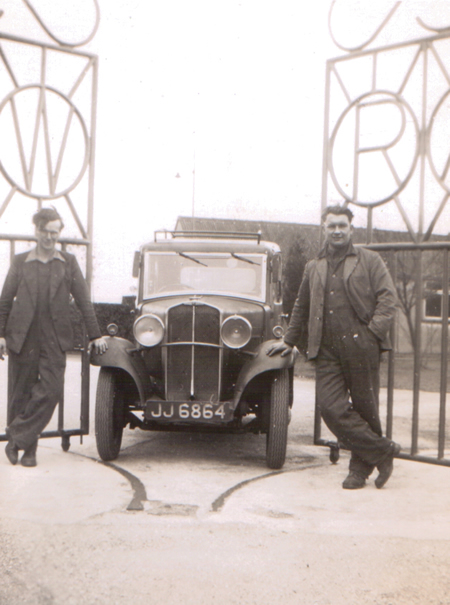 Fred Vellender and a colleague at the time
the gates were being erected.
Image courtesy of F.Vellender.
And where they used to stand....
Having worked at GWR in Swindon from 1941-1986, Frederick Vellender (pictured above) moved from being an Office Boy right up to Chief Foreman to the Coppersmiths, Welders & SM Workers.
We spoke to him in the video above to find out more about his life at GWR and the interesting part he played in the construction of the iconic Sports Ground gates - made from old boiler tubes ready for scrapping!
And if you're wondering what BRWRAA stands for, it's British Railways Western Region Athletics Association. Quite a mouthful!
For more information on STEAM & their exhibits, please visit the website via the link below.

Thanks to Calyx for the STEAM pictures.

Swindon Railway Festival 2012
Join Pete Waterman and show sponsors Hornby Magazine for the ultimate display of GWR railway layouts - 14 & 15 SEPT

15 September 2012

Swindon's sporting heyday?
With news of Supermarine expanding & houses on the former BR Ground, we look back at the golden age of Swindon's big work-related sports clubs...