Date added: 25 October 2012
Inspirational Women in Swindon - Part III
Liz Brackenbury meets Amelia Bishop in the third part of our Inspirational Women series
What drives a woman to set up her own business as a single parent on benefits, forge a successful career, then combine the two working fulltime in IT and in her own buisness whilst coping as a single parent and caring for a parent with a mental health illness?
I go along to meet the aspiring and entrepreneurial Amelia Bishop to find out.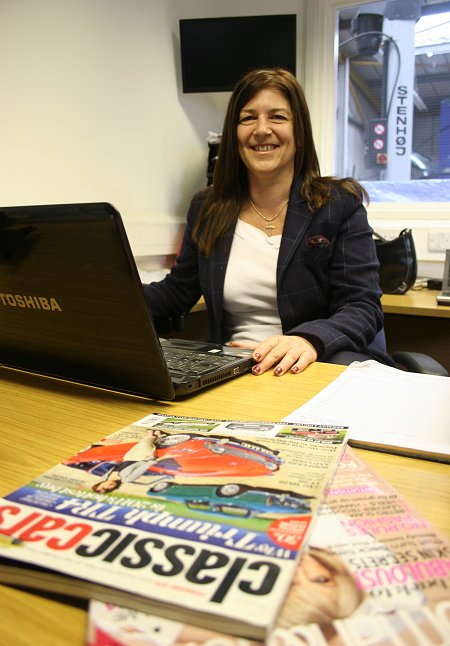 "I don't want this sounding like a sob story", says Amelia directly.
"Growing up with a mum with mental health issues was my norm, I didn't know any different. It was only as I got older I realised it wasnít everybody's normal."

With her dad often working away from home, it was left to Amelia, from a very young age, to cope with her mum.
"Her behaviour because of her illness could be quite erratic and unpredictable at times", says Amelia.
"I suppose I just internalised the parent role in our relationship. I didn't question it, I just got on with it because she was my mum."
Neither of her parents had any aspiration's for her in terms of a career or further education. "It was simply presumed that I'd get a job and be done with it", she reflects.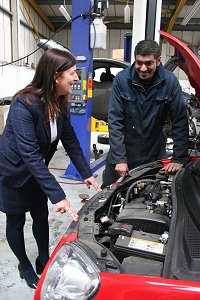 Amelia on the floor of her
She got married at 17, "in hindsight it was to get away from home", she states. It didnít work out and she found herself divorced a few years later.
She took a job in IT, worked hard and took every opportunity to progress. In her mid-late 20's she met someone and looked to settling down, things were good and they planned for a baby. She found herself pregnant in the first month.

"It came as a shock but a welcome one", she said. Sadly though the relationship deteriated and she found herself facing a choice between a future as a single parent or a life in a bad relationship. She opted to go it alone with a baby.

Determined to keep working she threw herself back into work soon after the baby was a few months old. "I wanted a good life for us", she reflects, "but I'd under-estimated the emotional and practical challenges of doing so unsupported."

Struggling to keep up with juggling a full time career and a young baby, she took redundancy when it was offered to became a full time mum.
"After the buzz of work I found it really difficult being at home so much. It felt isolating and lonely and when the redundancy money ran out I found myself a single mum on benefits. It wasn't what I ever imagined would happen to me and I became really depressed, which is not like me at all."

A chance meeting with an old colleague and an invitation to a positive focus seminar was the turning point for Amelia.

"It gave me the boost I needed to get myself back on track," and diversifying from IT, Black Cat clothing company was born, offering bespoke tailor made clothing. Offering this service via party things snowballed so quickly that she was soon also organising fashion shows, charity auctions and events for hotel groups and local nightclubs.

Amelia was in business.

After a successful time trading she admits the business took over. After much soul searching she found herself back in the corporate world to provide a more stable and secure future for her son.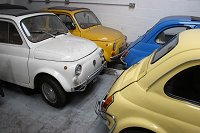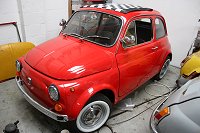 Restoring and hiring out original
Fiat 500s for films and fashion
of Amelia's growing business
At this time her mum's mental health wasn't an issue in her life.
"Dad cared for her, he understood her. He was the constant in her life, but suddenly his health deteriorated."
"Just before he passed away he asked me to look after her," Amelia says quietly. "When he died it was devastating. We all felt the impact, and it was only then that I began to realise just how much he'd masked the true extent of her illness. It was a very difficult time."
"My mum on her own could be all consuming, it takes so much emotional energy, its exhausting in a way I can't describe," Amelia pauses, "I love her. I love my son," she says simply.
"They are the only family I have left, I need to look after them both." The strength of feeling when she talks of her family is evident.
So it's no surprise that after finding herself redundant from a permanent job, rather than not being employed she took a risk by going contracting - this suited her personality down to the ground and she went from strength to strength.
She worked hard and enjoyed a nice lifestyle but the risk taker in her needed something more, taking a much needed break to Italy with her long term partner Amelia not only rediscovered a great affinity to the country but also a love for a classic and fun filled car - the Fiat 500.
Thus the concept of The Weenie Fiats Motor Group was started.
Fast forward to today and things are looking good. Still working full time, her son now grown up and her mum with professional daily support Amelia has taken her dream with her partner from a part-time hobby to the next level with the Weenie Fiats brand growing and expanding in Swindon fast.
"It's bought a balance to my life, I'm very privalaged to combine a love for my day job alongside a passion with Weenie Fiats that enables me now to provide for those closest to me."
"Growing up with a parent with a mental health illness I think I unconsciously adapoted a self resilience and self preservation without knowing it. As there were no aspirations or expectation for meIdidnít have any preconceived goals of what I could achieve."
"Which also means there are no limits either," she says with a smile.

Located on the Hawksworth Industrial Estate, Weenie Fiats are Fiat 500 specialists - both classic and the new Fiat 500. They offer servicing and repair and genuine FIAT parts for the NEW Fiat 500 at as well as servicing for all other makes and models.
Full details via the link below.