Date added: 08 December 2012
STILL JAH-MAZING!!!!!
X-Factor runner-up Jahmene Douglas does Swindon proud
Swindon's new singing star just lost out on the X-Factor crown tonight.
Despite producing one of his best ever performances when singing The Beatles 'Let it Be', Jahmene was pipped to the title by fellow finalist James Arthur.
"It's such a blessing to share the stage with such a talent," a typically unselfish JD said of the winner as the result was announced.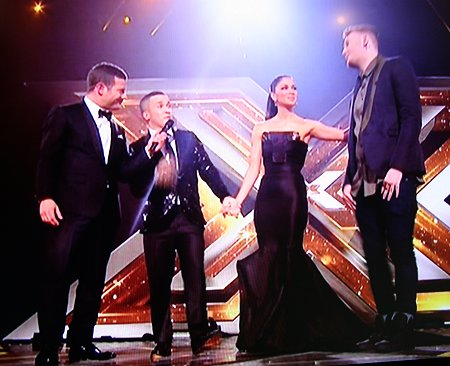 Jahmene congratulates James Arthur (above)
Swindon Asda collegues cheer on Jahmene (below) during the Final and proudly show off the £10K they have raised for Women's Aid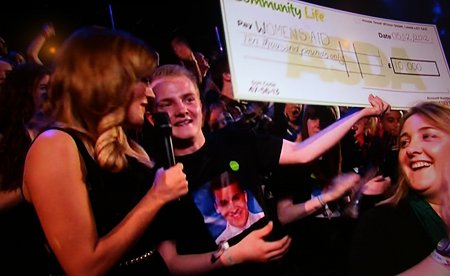 Jahmene will now get ready to appear on the X-Factor Tour which starts next month.
Swindon star up against James Arthur for the X-Factor crown
Jahmene Douglas survived a microphone problem to reach the last two of X-Factor tonight.
Christopher Maloney was eliminated leaving the Swindon star and the final favourite to battle it out in Sunday's grand finale.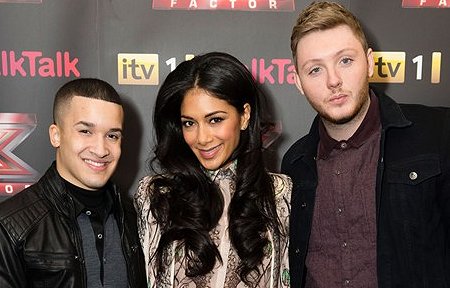 Jahmene Douglas v James Arthur
both mentored by Nicole Scherzinger
During the first performance of the night, Jahmene was forced to share his microphone with his mentor Nicole Scherzinger as the two dueted on stage after a technical hitch.
But after brushing off the incident by saying 'we just stayed cool', Jaheme wooed the judges and millions at home with his opening solo - Moving on Up. A rendition Gary Barlow admitted was on 'another level'.
The X-Factor Grand Final is on Sunday.
Don't forget to VOTE JAHMENE!
Photos ITV.
28,000 enjoy a Jah-mazing night in the town centre!
06 December 2012

X-Factor star Jahmene Douglas thanked Swindon for a day he'll
"never forget"
as he wowed a packed crowded in Swindon town centre tonight.
JD, accompanied by Nicole Scherzinger and mum Mandy, were the very special guests as 28,000 people squeezed into Wharf Green to see him switch on the Christmas lights - and sing!
Jahmene lands in Swindon - and he's got 'crazy' Nicole with him!
Jahmene Douglas returned to Swindon today to meet & greet fans before he heads of to Swindon town centre to help switch on the Christmas lights!
He arrived at Abbey Meads Primary School with mentor Nicole Scherzinger via HELICOPTER to the amazement of pupils & teachers alike.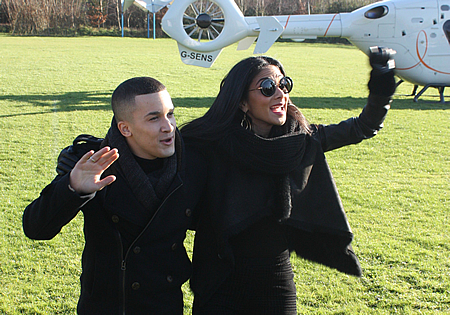 Jahmene Douglas & Nicole touch down...
MORE PICTURES COMING SOON...
Photos above by Lynette Thomas
Next stop for Jahmene and his entourage was his favourite supermarket - Asda Walmart, where again he was met by huge crowds including his mum!
The Swindon star spent over an hour at his former workplace talking to former colleagues and signing autographs.
The singer - who is a strong supporter of charities that help women suffering domestic violence - was also presented with a cheque for £10,000 for Women's Aid from the Asda team.
NEXT STOP:
Gorse Hill Community Centre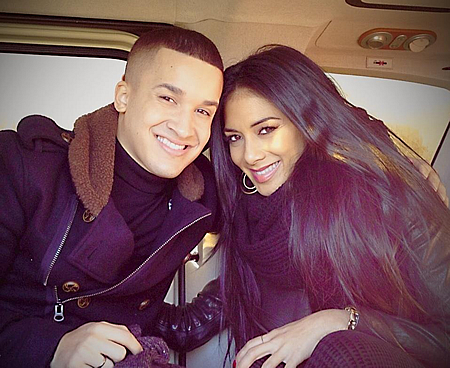 Jahmene & Nicole in a helicopter
Following tonight's elimination the acts through to the final are... *drum roll please*... James Arthur, Christopher Malone and JAHMÉNE DOUGLAS!
All three acts are going to have a fight on their hands as they're some of the strongest singers to come from this year's competition. Next week each act will be singing with their respective mentors so we have some Gary Barlow and Nicole Scherzinger action to look forward to!
It's now December and we all know what that means – Semi Finals week! Tonight one of the four remaining acts left in the X Factor competition will be leaving, while the others move on to the finals.
Who will it be? Swindon's very own Serenader, Liverpudlian Christopher Malone, charming Union J or bad-boy James Arthur. All four acts will be singing for survival with a song dedicated to someone special and one other of their choosing.

Axed Ella Henderson has said in an exclusive interview with LOOK Magazine that she thinks Jahméne will be the one to scoop the winning spot at next week's final. Let's just hope he can sail through the semi-finals like he has through the rest of the competition!
That was an amazing sing off tonight!! Everyone was left feeling a little sorry for poor old Rylan though it seemed it was his time to go. Needless to say Jahméne sailed through to the semi-finals. Next week is going to be so exciting!! Tell us who you think will win on Twitter @Swindonweb

'I'm running out of ways to lick your a**e'! Tulisa's comment says it all. Another fantastic week of performances for all the remaining boys, but who will be safe and who will go home?

It's a mash-up this week with each act performing TWO songs on the X Factor. One Abba. One Motown. I am very much looking forward to this as our boy Jahméne is the king of Motown. Everyone remembers that Etta James classic from his first audition; can we expect another belter like that?

WHAT A SURPRISE! Following the shock elimination of the favourite, Ella Henderson, there has been a mass Twitter war discussing the legitimacy of the show. But look on the bright side! Jahméne is now the favourite to win!

After Jahméne's fantastic performance of Harold Melvin and the Blue Notes' hit Don't Leave Me This Way; we are all hoping and praying that our boy stays in a few hours we will find out for sure who is safe for another week and who will be getting the bus home.

It's week 7 of the live X Factor shows and we are left with; Rylan Clarke, James Arthur, Ella Henderson, Christopher Malone, Union J, and of course Jahméne Douglas! What will they pull out of the bag for Guilty Pleasures week?!

While some may believe that Jahméne Douglas has 'sold-out' by doing all the recent magazine interviews, he firmly sticks by the fact that he is purely trying to raise awareness of domestic violence and promoting his mother's charity for the protection of women.
A fine and worthy cause backed by the honourable Jahméne who later refused to sing any songs on the X Factor that promoted 'boozing'!

Are the X Factor camp working Jahméne too hard? Late nights are plaguing our boy and we hope that it's from working hard and not partying like the other contestants!

After last week's visit from Robbie Williams, Jahméne went for a Robbie inspired song in the form of the British classic; Angels. But will it be enough to take him through? Looks like it as Nicole's boys are all through to the next live show!

Tonight's the night, once again the contestants of the X Factor are going to be battling it out to secure a place in the finals. The theme: Best of British! But who will do our nation proud?

Tonight Jahméne was made safe once again by the public vote, but we say goodbye to rocky contestant Kye Sones who was eliminated after his sing off with Rylan Clarke which resulted in Deadlock.
Kye admitted, on the Xtra Factor, that he is now backing Jahmene to take the crown and told Olly Murs: "I would love Jahmene to win just because of where's he come from and he's the most amazing singer."

There wasn't a dry eye in the house tonight as Jahméne Douglas sang his incredible rendition of Beyonce's song; Listen. All of the judges were left astounded by his talent with Tulisa saying "I guess I'll see you at the finals, right?".
Today is Halloween and the X Factor clan are celebrating by heading to ASDA to give Nicole Scherzinger, Judge of 'The Boys' category, a taste of the world that Jahméne has come from.
Hanging out in ASDA has given her the opportunity to experience the everyday activities that Jahméne undertakes while adding a touch of glamour to Swindon. Although I don't think she'll get along so well stacking shelves in her enormous heels!

Our X Factor golden boy is turning out to be a real diamond in the rough. Hailed for his dapper and quirky style; Jahméne is now being recognised by the UK's shopping outlets as a style icon.
An incredibly flattered Jahméne has been re-tweeting all week. But what do you think about his taste and THOSE suits? Tell us on Twitter: @SwindonWeb

As the X Factor contestants prepare to attend the prestigious Pride of Britain Awards; cheeky Jahméne makes a little confession.
It appears that the young Swindoner has a secret passion for Countdown and a crush on the impeccable Carol Vorderman! Getting excited on the red-carpet he says "I've just seen Carol Vorderman walk past [...] She's beautiful".

It's sad to see another contestant go on today's X Factor, especially the beautiful Jade. However, our boy Jahméne is safe for another week!

Jahméne sang Killing Me Softly by The Fugees tonight but will it be enough to get him through to week 5? The judges seem to think so with their truck-full of praise which sees Judge Tulisa hailing him 'the man who can't be moved'. @SwindonWeb

Everyone should be trembling on their sofas tonight for X Factors Halloween night! Who will triumph over evil and who will be thrown to the boogieman?

Jahméne Douglas said during his first audition 'people that know me know that I'm the biggest worrier. I get so nervous.' But what we want to know is will he deliver another one of his incredible performances this week? Swindon hopes so!

Jahméne Douglas is safe for another week! But who do you think will be the next to go? Tweet us: @SwindonWeb

Jahméne sings an incredible rendition of Dionne Warwick's I Say A Little Prayer. Although he received incredible comments from the judges, the shy and reserved boy appears teary-eyed following the release of the story of his abusive father.

To help donate to his mother's charity campaign to stop domestic violence
CLICK HERE
Swindon's Asda Walmart Staff come out in force to show their support for their co-worker, Jahméne Douglas.

Following Jahméne's first live performance, where he sang a rendition of John Lennon's classic song Imagine, the young Swindon star received a tweet from Yoko Ono herself! @SwindonWeb

Jahméne sailed through the second day of the boot-camp auditions, despite yesterday's hiccup. Don't forget to watch his incredible audition again!

Jahméne said in an interview with the Swindon Advertiser: "Taking part [in boot-camp] was overwhelming. I'm just grateful to have been part of the experience, regardless of the outcome." Swindon has its fingers crossed that the outcome is a good one!

HE'S THROUGH TO DAY 2 OF BOOT-CAMP!

We have reached the long awaited boot-camp stages of the X Factor competition and Jahméne is looking less than confident. Pitted against other singing hopefuls, will Jahméne come out shining?

The Swindon Advertiser remembers performances from Jahméne at Swindon public events. Have you seen the Swindon boy-wonder perform before? Get in touch on Twitter: @SwindonWeb

The world has been introduced to the wonderfully shy Jahméne and has fallen in love with his beautiful rendition of Etta James' classic; At Last. Tell us what you thought on Twitter: @SwindonWeb
"I always dreamt about being a singer. Everyone has their thing. My thing is singing." – Jahméne Douglas

The X Factor starts tonight! The long awaited series that always gets the nation buzzing is set to kick off with a bang. In the Daily Star, fellow Swindoner, Jahméne Douglas is forecast for greatness ahead of the airing of his first audition. We cannot wait to see how he does!

Union J Light Up Swindon!
Boy band - minus Jungle George - flick the switch in the town centre - VIDEO & PHOTOS

20 November 2015

Best Of Swindon 2013
Jahmene Douglas headlined an Oasis concert that didn't disappoint, writes Mallory Nicholson - REVIEW + GALLERY

27 May 2013

It's Good To Be Back!
Just before his headline gig at the Oasis on Sunday, Jahmene Douglas tells us about his crazy year - SEE PICTURES & WATCH VIDEO

23 May 2013

Get Down Swindon!
Gilbert O'Sullivan - number one in the charts 40 years ago this week - WATCH VIDEO

06 April 2013

The Big Bang Curry
Special Curry Place feast on eve of 'the end of the world' (but they are still taking weekend bookings, just in case!)...

20 December 2012