Date added: 30 January 2013
Bill's The Master Of Illusion
Why a magician by Royal appointment has made Swindon his new home
It's not often we applaud a conman at SwindonWeb, but it's hard not to applaud once you meet Bill Masters. A professional magician for over 15 years, he has even performed at Prince Charles' fiftieth birthday party. We went to talk to him about his recent move to Swindon.
"I first got interested in magic when I was four – my grandfather showed me a few simple tricks and that's really what got me started," says Bill.
"Since then I've always been performing, but I didn't turn professional until 1995. I moved to a new area and found it difficult getting a job, and because it had always been my hobby and my passion I thought I'd give it a go, and it took off really well."
So why come to Swindon? "It was mainly the population and the geographical location," says Bill. "I lived in Northampton and after that I moved for a while to Herefordshire and it's such a rural location – there's no industry there, it's all farming and agricultural and there just wasn't enough work.
"It's been a whirlwind. Since I decided to move to actually moving was less than a month, and then since I moved down here it's been more about redeveloping the new website, meeting new contacts, so the past couple of weeks have been hectic."
Born in Scotland, Bill has travelled around, living in Northampton and Herefordshire, for a while working as a pub relief manager.
"After leaving the pubs I found it very difficult to find work," he says. "I'd been unemployed for about eight months, so I got in touch with the Prince's Trust and they helped.
"The Prince's Trust is where I got my initial connection with Prince Charles. I did one of his benefit dinners which went well, and then I got invited to perform as a warm-up act at the Royal Albert Hall for one of his Royal Variety galas.
"That was all through the Prince's Trust but then I was actually invited by the Queen to perform at Prince Charles's fiftieth birthday party. In such a few short years, it went really well."
'Went well' is somewhat of an understatement; in 1998 Bill was awarded young entrepreneur of the year and was a member of the Magic Circle for seven years. Throughout his years as a magician there are few venues and types of events he hasn't performed at.
"I've done a bit of everything," he says, "but at the moment I'm mainly working on close-up card type stuff, which is ideal for weddings and corporate dinners. In the past I've also done stage shows with full stage illusions where you make people disappear, put them into cabinets, vanish them and levitate them and all sorts."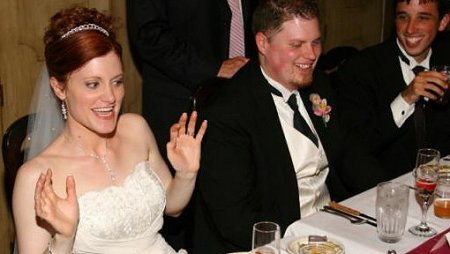 Bill Masters specialises in close-up card trick that's proved especially popular at weddings and corporate events
Having performed magic for more than forty years, Bill's success after turning professional came fairly quickly. But being a magician is a tough career choice.
"It's only the top one or two per cent like Paul Daniels and Derren Brown who actually make it to top prominence, so it's a tough field," he says.
"It doesn't take much – you see one bad magic trick and it can put people off. But it's my job to perform for them and convince them that magic is good, and I've got to try and change their minds."
For more information or to book Bill for your party, visit his Magic Masters website below.
Bill will also be performing cards tricks at the Stanton House Hotel Wedding Fayre on Sunday 03 March.