Date added: 08 February 2013
EATING OUT: The Faces Behind The Places
A hidden gem in the heart of Highworth, the Highworth Hotel is under new management and business is booming!
Pauline Gibson and Michael Clitheroe took over the reins of the Highworth back in November, and it's already beginning to feel like home to them.
Not only did Michael and Pauline previously work together at Bowood Hotel in Calne, they are recently engaged...and expecting their first child! SwindonWeb went to have a chat with Pauline about the new and improved Highworth.
"It's all changed...I don't do things by halves!" laughs Pauline. "I'd been at Bowood for four years, so it was time to move on."

"We spoke to Bob, who owns this place – he loved us, we loved him and a week later we were here. And it was literally that fast. It was crazy – good, but crazy!"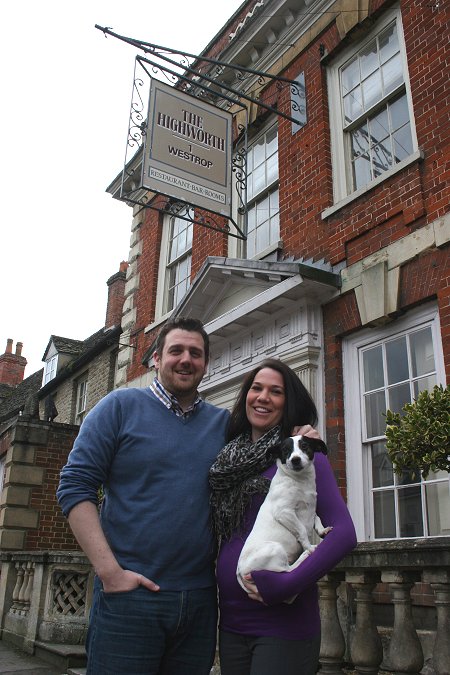 The Highworth underwent a million pound refurbishment two years ago, just before it was taken over by Bob.
"It's really perfect for me and Michael – it's the cutest little hotel," says Pauline.

Since taking over, Pauline and Michael have already begun to make small changes to the Highworth – the biggest change being that they now open 7 days a week as of the beginning of February.

"You just have to run with things for a little while and see how it goes – see what the flaws are, what works and what doesn't work and then slowly start changing things," says Pauline.

"The biggest change is obviously that we're opening 7 days a week, and that we are a dog friendly hotel – we even have our own hotel dog!"

"Michael and I are starting to put a calendar of events together. Throughout December we had live music on a Friday night that went down really well, and it's a good way to showcase local talent, so we're going to carry on doing that once a month."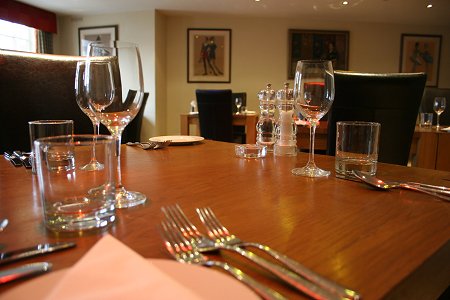 The restaurant room at The Highworth
With just 10 rooms it's on a completely different scale to Bowood, where Michael was the General Manager and Pauline was the Reception and Revenues Manager.

"It is totally, totally different," admits Pauline, who looks on it as a good thing, "you get to know all the locals, you get to know all the guests, you get to know every single aspect of the business."
While Pauline's enthusiasm for the Highworth is evident, surely just two people running a whole hotel, albeit a small one, is a lot of work?

"I'm still working the same kind of hours as I did at Bowood, but it's for me this time. I don't care how many hours I work here, because it's for me and Michael, it's for our future, and it's appreciated by me and him."

"It's essentially mine and Michael's, so if anything succeeds it's down to us – if anything fails it's our fault – bit it's nice not to be on a big scale and it's nice not having to report to anyone. I'm not stepping on anyone's toes, which is great."

"We've always worked together, and we work really well together. He knows what he's good at, I know what I'm good at, and it all comes together."

For more information please visit The Highworth's website via the link below or call 01793 762364.
Eating Out - WHAT'S NEW
Our regular look at what's fresh on the menu in Swindon - offers, new places, reviews, events and more...

Eating Out Guide
Italian restaurant in Swindon? Chinese, perhaps? A quick bite at lunch-time? Or Sunday lunch? FULL GUIDE