Date added: 06 March 2013
It's The Apprentice - Swindon-Style!
Swindon MP helps budding Swindon College entrepreneurs get their first taste of business
Today was The Apprentice - Swindon style!
Swindon MP Justin Tomlinson invited budding young entrepreneurs from Swindon College to take part in a £10 Challenge at Blunsdon Market in aid of the Prospect Hospice.
Justin Tomlinson does The Apprentice - well sort of!
The Challenge required the teams to take a stall and start selling with just £10 start-up money, with all profits going to support the charity.

Ideas included 1950s style cupcakes, one selling easter eggs, another stationary, plus Bric & Brac and a very successful venture doing Indian henna tattoos!
All this week, Justin, a former small business owner himself, had been working with the business students as they progressed towards trading day.
Swindon College students getting ready for trading day
Photo c/o
Justin Tomlinson
The Swindon North MP, who has long been supportive of getting more young people into business, organised for each of the 11 teams to have a stall for a day at the Blunsdon Market, pitching their wares to the customers and cutting their business teeth in a real trading environment.

Justin said: "I have long been championing the need to encourage more young people to get into business and secured in principle the use of the Blundson Market a while ago. I am delighted that Swindon College students will get the chance to test their business skills at the Market."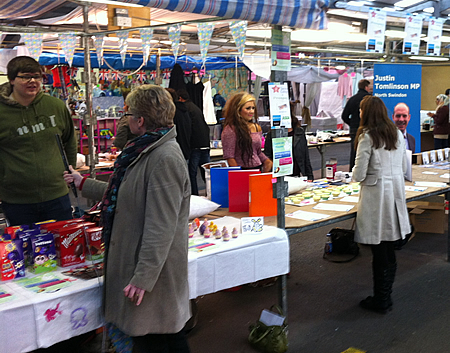 Trading Day:

Students busy selling their products to customers
Mentors were also secured to support the students as they drew up their trading plans. They included figures from the local business community, local businessmen, the Editor of the Swindon Advertiser and Barclays, who will also kindly be doubling the profit made by the teams for Prospect.
Smiths News also advised on poster designs which were then printed to help the students advertise their stalls.

Swindon College Entrepreneurs
Wednesday 06 March 2013