Date added: 06 April 2013
Get Down Swindon!
Gilbert O'Sullivan - number one in the charts 40 years ago this week
The news that singing stars Jahmene Douglas and Josh Kumra will be appearing in a big gig at the Oasis next month called 'Swindon's Best' got us thinking - and delving in to the archives.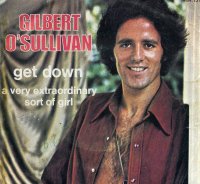 Walcot's Gilbert O'Sullivan
None other than the surprising musical gem that Swindon's Gilbert O'Sullivan was Number One in the charts this week exactly 40 years ago with the hit 'Get Down'.
Even now, it can be easy to forget just how much of a star our Gilbert was in the early 1970s.
'Get Down' was his second big hit inside six months and reached the top of the hit parade (as it was called then!) on 07 April 1973, in the day when you had to sell hundreds of thousands of records to get there. It stayed there for two weeks.
It followed the huge success of chart topping single 'Clair' in November 1972, in a year when O'Sullivan also had a number one album with 'I'm a Writer Not A Fighter' from which Get Down is taken.
The song did, incredibly, cause some controversy with the feminist movement of the time, who thought the lyrics implied a sexist provocation!
But as O'Sullivan was happy to admit, it was simply inspired by an instruction to his dog, who kept on jumping up at him with muddy paws!
Top of The Pops 1973 with Pans People
An Album Ahead Of Its Time
50 years on from The Moody Blues' grounbreaking 'Days of Future Passed' written by Swindon Rock God Justin Hayward#madeinswindon

05 November 2017

Best Of Swindon 2013
Jahmene Douglas headlined an Oasis concert that didn't disappoint, writes Mallory Nicholson - REVIEW + GALLERY

27 May 2013

Chart Topper!
It's a number one single for Swindon singer Josh Kumra - WATCH VIDEO...

22 August 2011