Date added: 30 July 2013
The Grand Plan For Old Town
And maybe, just maybe, this time it's going to happen...
It's long, long overdue but sometimes the best things are worth waiting for.
And if the plans unveiled this week for the redevelopment of the former Locarno building in Old Town come to fruition, then Swindon will finally have an historic heart it can be truly proud of.
In a joint partnership between Swindon Borough Council, Forward Swindon, English Heritage and Swindon Corn Exchange Limited (who own The Locarno) a draft planning brief has been designed and presented for public comment at the Arts Centre.
"It's been a real collaborative approach because all parties know this area of Swindon desperately needs and deserves redeveloping," commented Steve Rosier, who has helped lead the plans.
"This sets out our aspirations for the site and is the first crucial step in attracting the types of retail and restaurant names we want here in Swindon."
The Council's vision for the Locarno includes the possible demolition of adjacent buildings such as The Forum (currently HSBC), and the Mason's Lodge behind, as well as the major refurbishment of much older, listed parts of the High Street.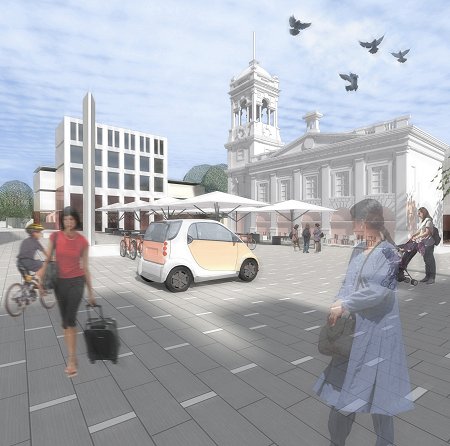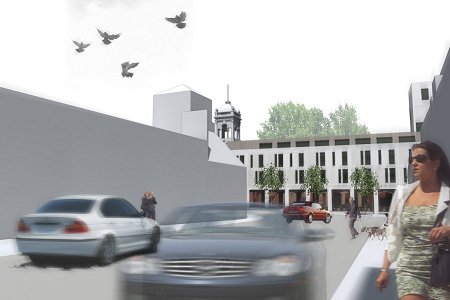 The view from Newport Street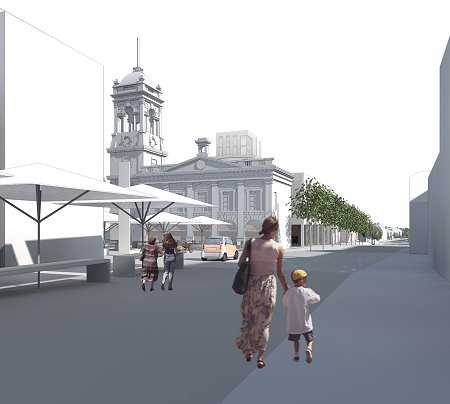 "The development should be seen as a catalyst for change in Old Town where vacant or poor quality buildings form part of a broader regeneration," added Mr Rosier.
"This is a massively positive step. Just redeveloping the Locarno as one entity isn't enough. This is a grand plan for a key part of Swindon we can all work towards and make happen."
The consultation continues until 24 September.
Official approval for the plans will be decided at a full Council planning meeting in early October.
The Old Town Hall & Corn Exchange
The Arts Centre
30 & 31 July 2013
See below for the history of the Locarno and the people of Swindon's attitude to it when we asked them on video.
Swindon Going Downhill?
Too right!!
Great news as £270m ski dome at North Star gets the final go ahead - HAVE YOUR SAY

28 November 2018

Adver Towers Shelved!
UPDATE: Apology & plans withdrawn after public outcry over Old Town development proposal - HAVE YOUR SAY

12 March 2016

Swindon Pop-Up Museum!
Exhibition shows the past, present & future of Swindon town centre - PICS

01 November 2014

Regenerating Swindon
Take a walk-through the changes happening in Swindon town centre - WATCH VIDEO

07 June 2014

The Biggest Piece of the Jigsaw
Major change on the way for Fleming Way as part of the £350 million pound regeneration of Swindon town centre - WATCH VIDEO

06 March 2014

A Taste of Old Town
Free oysters & bubbly go down very well at the new Wood Street Food Hall!...

14 September 2013

UTC Building
We explore how the iconic college will look...

15 July 2013

Life In The Old Bell Yet!
UPDATE: But not as a pub... new coffee shop and retail units planned for historic Old Town building...

24 May 2013

Ahh, if only....
Jon Ratcliffe imagines what Swindon could be like if we got back our confidence - HAVE YOUR SAY...

10 April 2013

Swindon's New Masterplan
Forward Swindon announce new regeneration plans for Swindon town centre - SWTV

05 September 2012

Hanging Around In Swindon!
It's every crane operator's nightmare - getting stuck 200 feet up on the job! - SEE GALLERY

30 August 2012

Even The Queen Was Invited
A look back at Swindon's last big regeneration project - and what happened when the money ran out...

07 August 2012

The Railway Works
Celebrating Swindon175. A short introduction to the world's finest railway works. Founded this week in 1841....