Date added: 24 August 2013
Business is Groomin'!
New Barbers a dream for Swindon-born Matthew
Friends and family were raising a toast to Swindon's newest business owner this week.
Matthew Withers, 26, has opened Matthew's Gentleman's Grooming at the bottom of Victoria hill - right next door to people who helped give him the confidence to start up on his own.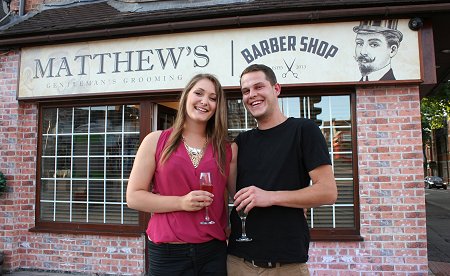 Matthew and his girlfriend Roberta
at the opening of his new business
"I've been cutting Ricky Mazzotta's hair [owner of Fratellos restaurant] for while now and he always said I'd do really well with my own place," Matthew told us.
"And when Ricky mentioned he might have just the perfect location, I jumped at the chance."
Swindon-born, Matthew, who has worked cutting hair in a barbers since he left school at 16, sees the new business as a dream come true but still knows all too well how tough it can be for new start ups.
"I've done my research, though," he added "and waited for the right shop to come up."
"Wayne's Barbers were open across the road from here for 40 years until they closed in 2009 after half a million haircuts, so there should be a demand for a proper barbers here.
"Plus the Regent Circus redevelopment opposite means this area is really on the up.
"That's all in my favour so I'm going to give it 100%."
And if it does get quiet?...
"I can always rely on Ricky, Vince and his staff coming in for a cut!" Matthew joked, "they know they'll always get a discount so that's a good start."
Matthew's Gentleman's Grooming
12 Victoria Road
Swindon
SN1 3AJ
Matthew's Gentleman's Grooming
22 August 2013